Tenuta Santini
2 daisies. Via Campo, 33 - Riccione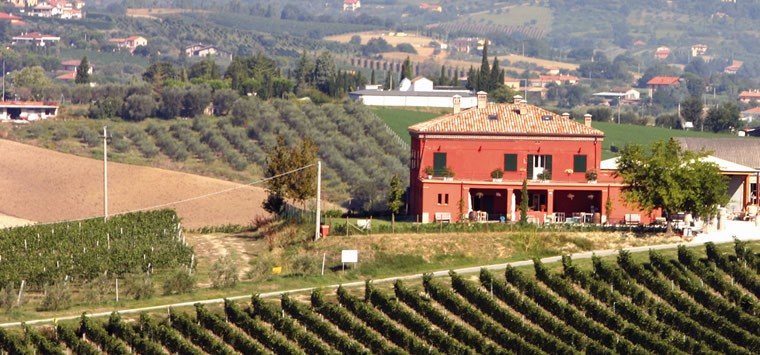 Go to the site

Ask for a quote

Why select this farm holidays?
Tranquillity
Comfort
Friendly atmosphere
Tenuta Santini is a typical farmhouse in the Rimini countryside, set in very evocative natural surroundings.
The first floor of the building is occupied by two holiday apartments, renovated throughout, each with a kitchen, living-room, private bathroom, double bedroom, and sofa-bed.
For those who enjoy outdoor holidays, there's a camper area just before the Tenuta.
In the most secluded part of the complex, there's a 50 m² swimming-pool.  
Cyclists will find 12 attractive cycle-routes around Riccione, well suited to any level of training. There are also walking and horse-riding itineraries and delightful Nordic walking excursions in the local area.
General services
Wi-Fi
Parking
Pool
Family rooms
Pets welcome
Services for families
Room with: cots with safety-bars, cribs, night-lights
Meal services
Do-it-yourself: kitchen/cooking area
Languages spoken by the staff
English
Ask for a quote
Simple, fast, free, customised
Ask now

Our interview with Tenuta Santini
Q. What do your hotel guests like best?
R. "The rural setting, which includes not just the house but also the surrounding landscape (as well as the vineyard and our products)"
Q. Do you organise parties, themed evenings and entertainment?
R. "We organise aperitifs in the vineyard, trekking around the estate, tasting evenings with a cabaret show, and horse-riding excursions"
Q. What's the motto of your hotel?
R. "Where there are good wines, there are good men"
Q. What do children like about your hotel?
R. "The tractors"
Q. What sort of organised activities for children do you provide?
R. "There are no fixed activities"
Q. Do you have many loyal clients?
R. "Yes, 80%"
Q. Do you have a client loyalty record?
R. "Practically everyone"
Q. What's the best compliment you've ever received?
R. "The products are excellent, the home-made olive-oil is something special"
Q. Are there any key figures at your hotel?
R. "The owners, Sandro and Alessandra, because they manage the whole complex"
Q. What does hospitality mean to you?
R. "Giving someone who has just left home the feeling that he's coming home again"
Ask for a free quote