Hotel Clipper
3-star hotel. Lungomare Costituzione, 21 - Riccione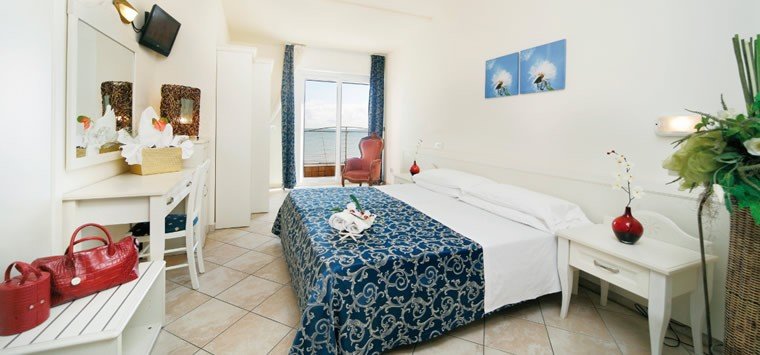 Go to the site

Booking online

Ask for a quote

Why select this hotel?
Position
Sea view
Friendly staff
Right by the sea, in a quiet position close to the centre, the Hotel Clipper charms all its guests with its stylish décor and the kindness and willingness of its staff.
There are many reasons for choosing the Hotel Clipper, including our spacious rooms, some intercommunicating, and all furnished with every comfort.
Then there's the BEACH VILLAGE aquatic park, free for our guests, our breakfasts (with organic corner) served in the terrace garden, and the traditional fish and meat  dishes served in our "Profondo Blu" scenic restaurant.
We organise weekly excursions to explore the castles and villages of the inland region, sailing-boat trips, typical Romagna dinners, and dance evenings.
General services
Wi-Fi
Parking
Beach included
Restaurant
Family rooms
Pets welcome
Bike hire
Conference rooms
Sea-front
Services for families
Games for children
Mini-club (4-10 years)
Baby-sitting (payable)
Children's menus
Fully-equipped beach with games for children
Room with: cots with safety-bars, cribs, night-lights
Meal services
Breakfast included
Half-board
Full-board
All-inclusive formula
Food for coeliacs
Vegetarian/vegan cooking
Languages spoken by the staff
English
French
German
Ask for a quote
Simple, fast, free, customised
Ask now

Our chat with Lina from Hotel Clipper
Q. What do your hotel guests like best?
R. "The cooking"
Q. What's the motto of your hotel?
R. "The input of all the individual people who work in the hotel"
Q. What do children like about your hotel?
R. "The organised activities and the ice-cream sorbets"
Q. What sort of organised activities for children do you provide?
R. "A mini-club for aged 3 upwards, every day (except Saturday) from 12.30 p.m. to 2.30 p.m. and from 7.30 p.m. to 10.00 p.m. Saturdays from 7.30 p.m. to 10.00 p.m"
Q. Can you tell us a nice anecdote?
R. "It relates to a phone conversation: a man who claimed to be a doctor wanted to sell us a product, and asked if we could spell the words "THE SUITE"
Q. Do you have many loyal clients?
R. "Yes, 30%"
Q. Do you have a client loyalty record?
R. "More than 10 years for sure"
Q. What's the best compliment you've ever received?
R. "We had a letter from a family who described us as the "hotel of smiles"
Q. Are there any key figures at your hotel?
R. "Federico and Laura at reception; they know our regular clients very well and all their needs. Front of house, there's Fabio; he's the lynch-pin of the hotel, he can always detect a problem and is a real handyman. Then there's Marco in the kitchen, who has maintained excellent standards over the years"
Q. What are your culinary specialities?
R. "Traditional Romagna dishes, carefully prepared at every stage, from the selection of raw ingredients to presentation on the plate"
Q. What does hospitality mean to you?
R. "Hospitality is focusing on the individual guests as they arrive and giving them what they each expect. It is trying to understand what space to give to each client (who wants to chat, who wants silence). So hospitality is like detective work!"
Ask for a free quote