Hotel Pacific
3-star hotel. Via Giordano Bruno, 7 - Riccione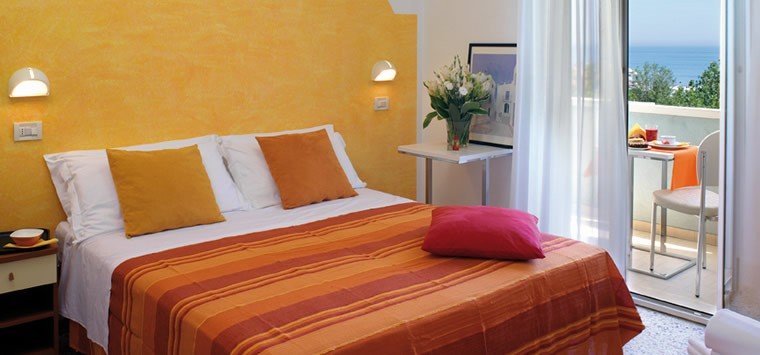 Go to the site

Ask for a quote

Why select this hotel?
Cooking
Position
Family management
In a lovely green setting and close to the sea and the centre of Riccione, the Hotel Pacific welcomes you with a typical friendly Romagna atmosphere.
We take particular care over our cooking, which includes Romagna and international specialities based on meat and fish, as well as a tempting buffet of hors d'oeuvres and salads.
Our rooms are very comfortable, furnished in a simple style and equipped with modern services and private bathrooms.
Your children will enjoy the play area in the cool hotel garden and the bikes we provide for pleasant rides with the family; while our partner beach provides practical private cabins. The hotel has a large car-park.
General services
Wi-Fi
Parking
Beach included
Restaurant
Family rooms
Pets welcome
Services for families
Games for children
Children's menus
Provision of: cutlery, plates, beakers, bibs and placemats to colour in, highchairs, bottle-warmers
Fully-equipped beach with games for children
Room with: cots with safety-bars, cribs, night-lights
Meal services
Breakfast included
Half-board
Full-board
All-inclusive formula
Do-it-yourself: kitchen/cooking area
Food for coeliacs
Vegetarian/vegan cooking
Languages spoken by the staff
English
French
German
Ask for a quote
Simple, fast, free, customised
Ask now

Our chat with Silvia from Hotel Pacific
Q. What do your hotel guests like best?
R. "The cooking"
Q. Do you organise parties, themed evenings and entertainment?
R. "We organise dancing parties every so often"
Q. What do children like about your hotel?
R. "The kindness"
Q. Do you have many loyal clients?
R. "Yes, 70%"
Q. Do you have a client loyalty record?
R. "Some people have been coming to us for 50 years"
Q. What's the best compliment you've ever received?
R. "We feel at home here"
Q. Are there any key figures at your hotel?
R. "The owners"
Q. What are your culinary specialities?
R. "Our first courses and the fish"
Q. What does hospitality mean to you?
R. "Knowing how to make the client feel at ease by trying to respond to all his needs. This is what we mean by being hospitable"
Ask for a free quote