Hotel Ariston
2-star hotel. V.le Cesare Battisti, 14 - Riccione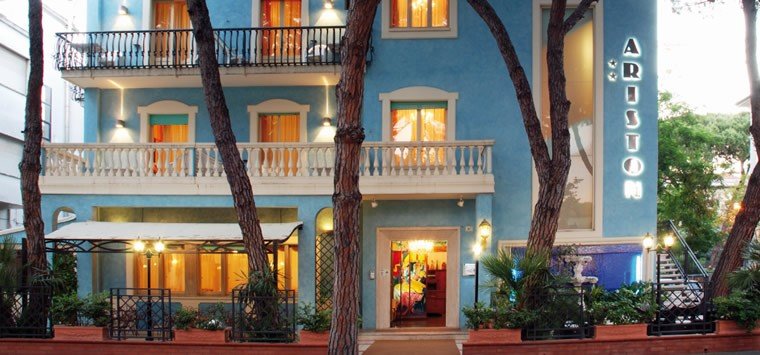 Go to the site

Ask for a quote

Why select this hotel?
Family management
Cooking
Courtesy
At the Hotel Ariston, the traditional hospitality of a family-run hotel combined with care for our guests are our most important values.
The hotel is the ideal choice for those looking for a totally relaxing holiday. Indeed, the Ariston is in a very quiet location, far from the noise of traffic. It is just 3 minutes' walk (50 metres) from the beach (Bagno 68), with services for both adults and children, and only 5 minutes (150 metres) from Viale Ceccarini with its smart boutiques.
Everything at our hotel is genuine, starting from our typical local cuisine, with fresh pasta and desserts that are all home-made. Children receive lots of special attention, including the preparation of baby-food and dishes to suit their tastes, services in the room, a children's area in the garden and an inside play room.
General services
Wi-Fi
Parking
Beach included
Restaurant
Family rooms
Bike hire
Services for families
Games for children
Children's menus
Provision of: cutlery, plates, beakers, bibs and placemats to colour in, highchairs, bottle-warmers
Fully-equipped beach with games for children
Room with: cots with safety-bars, cribs, night-lights
Meal services
Breakfast included
Half-board
Full-board
All-inclusive formula
Food for coeliacs
Vegetarian/vegan cooking
Languages spoken by the staff
English
French
German
Ask for a quote
Simple, fast, free, customised
Ask now

Our chat with Marina from Hotel Ariston
Q. What do your hotel guests like best?
R. "The courtesy and the family atmosphere"
Q. Do you organise parties, themed evenings and entertainment?
R. "We organise a "Romagna Evening"
Q. What's the motto of your hotel?
R. "The holiday that makes you feel at home"
Q. What do children like about your hotel?
R. "The play area"
Q. Do you have many loyal clients?
R. "Yes, 60%"
Q. What's the best compliment you've ever received?
R. "You are like a sister to me"
Q. Are there any key figures at your hotel?
R. "The owners, who play all the most important roles: Anna, Riccardo and Margherita in the main rooms and Leonardo and Marina at reception"
Q. What are your culinary specialities?
R. "The home-made pastries for breakfast, and our typical Romagna dishes and home-made pasta"
Q. What does hospitality mean to you?
R. "When a guest arrives, you need to greet him with a smile and give him a real family welcome"
Ask for a free quote