Hotel Flamengo
3-star hotel. Via D'Annunzio, 55 - Riccione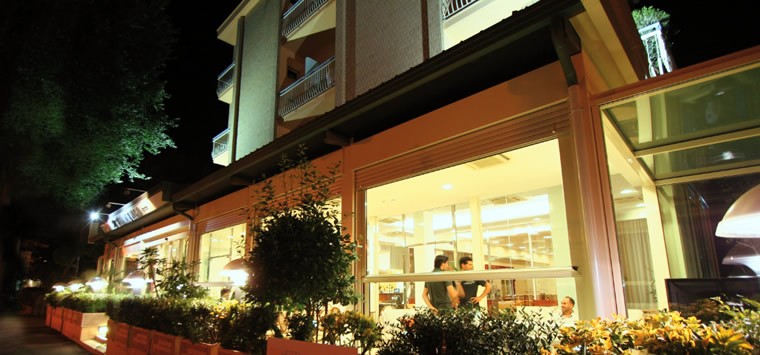 Go to the site

Ask for a quote

Why select this hotel?
Gluten-free dishes
Sea view rooms
Central location
Hotel Flamengo is centrally located, just 30 metres from the beach and a few minutes' walk from a large shady park and from the centre of Riccione: the famous Viale Ceccarini. Private parking by reservation.
Hotel Flamengo is fully air conditioned and heated during the cooler months and features many common areas including a corner kitchenette for new mums, as well as free Wi-Fi throughout the hotel.
All rooms have a terrace with sea views, plus when you're not at the beach you can enjoy the sun on our rooftop terrace overlooking the sea.
Our cuisine offers meat and fish dishes for lunch and dinner and typical specialities from Romagna. A rich buffet breakfast awaits our guests every morning. For those who love the sun, we offer lunch on the beach.
General services
Wi-Fi
Parking
Restaurant
Pets welcome
Bike hire
Services for families
Games for children
Baby-club (0-3 years)
Mini-club (4-10 years)
Children's menus
Provision of: cutlery, plates, beakers, bibs and placemats to colour in, highchairs, bottle-warmers
Fully-equipped beach with games for children
Room with: cots with safety-bars, cribs, night-lights
Meal services
Breakfast included
Half-board
Full-board
All-inclusive formula
Do-it-yourself: kitchen/cooking area
Food for coeliacs
Vegetarian/vegan cooking
Languages spoken by the staff
English
Ask for a quote
Simple, fast, free, customised
Ask now

Our chat with Gilberto from Hotel Flamengo
Q. What do your hotel guests like best?
R. "Location, sea view rooms and typical cuisine from Romagna in gluten-free versions"
Q. Do you organise parties, themed evenings and entertainment?
R. "Dinner with typical specialities from Romagna and boat trip with the possibility to enjoy a swim in the open sea"
Q. What's the motto of your hotel?
R. "Treat the host as you would like to be treated"
Q. What do children like about your hotel?
R. "Lots of space. Many kids tell me: "I have 3 homes: mine, my nanny's and hotel Flamengo""
Q. Can you tell us a nice anecdote?
R. "Aperitifs with a view. Between enjoying an appetiser and a glass of sparkling wine, a guest, while enjoying the sea view, noted: "this place is really wonderful!" The same customer, upon arrival, had wanted to go away because the rooms were dated and the bathroom did not have a shower."
Q. Do you have many loyal clients?
R. "Yes, 60%"
Q. Do you have a client loyalty record?
R. "The Invernizzi family, who has been our guest for 28 years without ever missing a year!"
Q. What's the best compliment you've ever received?
R. "From a guest with coeliac disease: "I felt normal!""
Q. Are there any key figures at your hotel?
R. "Myself, Cristina, Aurelio"
Q. What are your culinary specialities?
R. "Rich international breakfast, fried fish, pork roast, spaghetti "aglio olio peperoncino" (garlic oil chilli pepper), marinade"
Q. What does hospitality mean to you?
R. "Looking each guest in the eye, understanding them and making them feel at ease, as if they were at home, but with many new ideas"
Ask for a free quote