Hotel Margareth
3-star hotel. Via Mascagni, 2 - Riccione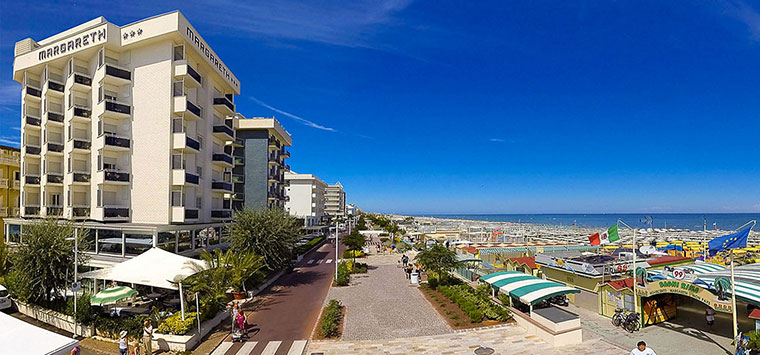 Go to the site

Ask for a quote

Why select this hotel?
Conveniently located
Excellent value for money
Hospitality
"Reputable, safe, reliable" is the motto of this conveniently located hotel on the seafront only 300 metres from the port, 600 metres from the Sports Centre and 800 metres from sports facilities.
The hospitality, the excellent value for money and the cleanliness of the hotel as well as traditional cuisine have made the Margareth for many visitors, who come to Riccione all year round, a reputable hotel. We also have rooms with adapted bathrooms.
For Sports weekends, business or for the fairs in Rimini and Bologna, it is a pleasure for you to try our services, the hearty breakfast, free Wi-Fi, the safe and supervised car park. The restaurant also caters for events and ceremonies. We host pets, we guarantee good pet food, bowl and cover and even a walk with our pet sitter!
Usually, the customer who stays in the winter and spring also returns in summer, a sign of efficiency of staff and the hotel. You should try it too!
General services
Wi-Fi
Parking
Beach included
Restaurant
Pets welcome
Rooms for disabled people
Conference rooms
Sea-front
Services for families
Games for children
Baby-club (0-3 years)
Mini-club (4-10 years)
Baby-sitting (payable)
Children's menus
Provision of: cutlery, plates, beakers, bibs and placemats to colour in, highchairs, bottle-warmers
Fully-equipped beach with games for children
Room with: cots with safety-bars, cribs, night-lights
Meal services
Breakfast included
Half-board
Full-board
All-inclusive formula
Do-it-yourself: kitchen/cooking area
Food for coeliacs
Vegetarian/vegan cooking
Languages spoken by the staff
English
French
German
Russian
Spanish
Romeno
Ask for a quote
Simple, fast, free, customised
Ask now

Our interview with Hotel Margareth
Q. What do your hotel guests like best?
R. "The seafront location, close to the centre and Viale Dante, the polite staff, cleanliness and the cuisine"
Q. Do you organise parties, themed evenings and entertainment?
R. "We organise dinners with a local ethnic theme, evenings with music, entertainment in the Leo Amici Theatre. Dinners in farmhouses near Lake Montecolombo"
Q. What's the motto of your hotel?
R. "Reputable, safe, reliable."
Q. What do children like about your hotel?
R. "The availability of childcare staff, food, snacks, and steps away from the beach."
Q. Can you tell us a nice anecdote?
R. "For each birthday celebration, there is a special cake and gift, if it is for a lady, roses and chocolates, if it is for a gentleman, Prosecco. I serve the aperitif on Saturdays running after customers with the piadina in my hand on the seafront. We make the piadina thanks to the cookery course stand on Spiaggia delle Donne. Children compete in the best pizza competition."
Q. Do you have many loyal clients?
R. "Yes, 80%"
Q. Do you have a client loyalty record?
R. "Yes many customers still come since the first opening of the hotel in 1996."
Q. What's the best compliment you've ever received?
R. "I feel at home here"
Q. Are there any key figures at your hotel?
R. "Renata who manages everything, Barbara, our qualified secretary, Felice, the chatty waiter, Michela, the assistant for children and adults"
Q. What are your culinary specialities?
R. "Romagna cuisine, fish, desserts"
Q. What does hospitality mean to you?
R. "The difference between me and Gigi Buffon, the best goalkeeper in the world, is that he tries to stop the ball from entering the goal line. As a genuine person from Riccione, I and my staff love our clients and want them to keep coming to us!"