Hotel Viscount
2-star hotel. Viale Goldoni, 10 - Riccione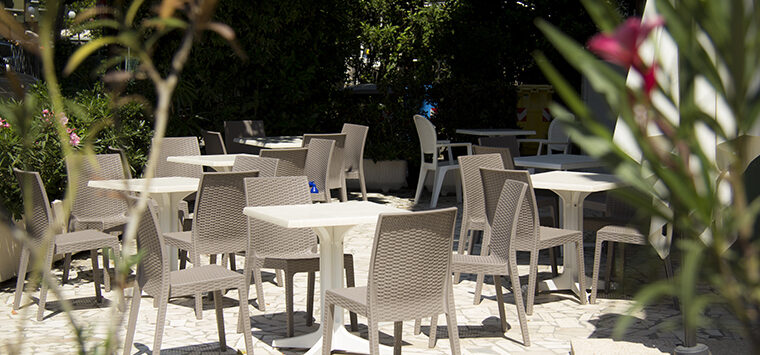 Go to the site

Ask for a quote

Why select this hotel?
Location: near the beach, close to amenities and shops, but also away from the lively town centre
Traditional Romagna family-run hotel
Extremely pet friendly
At the Viscount Hotel, you will find an informal and cheerful environment with no frills, but equipped with all the amenities needed to guarantee you a pleasant and carefree beach holiday: Wi-Fi, car park, bicycles, beach service (with an all-inclusive package), discounts for parks and spas, authentic cuisine (using only seasonal local ingredients when possible), hospitality for the whole family (your children, but also your 4-legged friends).
If you want to be very close to the beach, you have come to the right place (less than 100 metres from the nearest beach and about 200 meters from the furthest one). Also, the hotel is away from the noisy town centre but still has all amenities within walking distance (shops, bars, restaurants, arcades, carousels, inflatables, dog walking areas…).
General services
Wi-Fi
Parking
Beach included
Restaurant
Family rooms
Pets welcome
Bike hire
Services for families
Baby-sitting (payable)
Children's menus
Provision of: cutlery, plates, beakers, bibs and placemats to colour in, highchairs, bottle-warmers
Fully-equipped beach with games for children
Room with: cots with safety-bars, cribs, night-lights
Meal services
Breakfast included
Half-board
Full-board
All-inclusive formula
Vegetarian/vegan cooking
Languages spoken by the staff
English
French
German
Russian
Ask for a quote
Simple, fast, free, customised
Ask now

Our chat with Laura from Hotel Viscount
Q. What do your hotel guests like best?
R. "Its location, the "atmosphere""
Q. Do you organise parties, themed evenings and entertainment?
R. "We periodically have typical Romagna dinners"
Q. What's the motto of your hotel?
R. "Smile, you are in Riccione!"
Q. What do children like about your hotel?
R. "Our mascot Foxy and Stefano who always plays and entertains them during meals when he is not working in our bar."
Q. Do you have many loyal clients?
R. "Yes, 80%"
Q. Do you have a client loyalty record?
R. "I would say 2: a German client who started coming on holiday here with her family as a girl in the 1970s and now she is almost a great-grandmother and a couple from Bergamo who celebrated their 50th anniversary with us in 2015… they were here for their honeymoon and have been coming every year since then!"
Q. What's the best compliment you've ever received?
R. "Something said by a child who before leaving said "when I grow up and have children, I will bring them on holiday here at your hotel!""
Q. Are there any key figures at your hotel?
R. "My adopted family: Mirella (a great receptionist and my adopted "god-daughter"), Anna (our "longstanding" chambermaid, she always gives her unique touch to the rooms) and Marcella (restaurant supervisor, elegant, efficient and very friendly). And of course my own real family: me, my partner Stefano (who takes care of the bar, maintenance and kids entertainment) and my brother Luca (night porter)."
Q. What are your culinary specialities?
R. "Passatelli, lasagna, risotto marinara… most of all Romagna specialities but also a few recipes that my mother taught me."
Q. What does hospitality mean to you?
R. "For me, its meaning is well expressed in some verses I read a long time ago in middle school, written by an Eastern author whose name I have forgotten (but I will always remember these words which for me are the essence of hospitality): "yet more unexpected guests will arrive/and we will set the table for them and our hearts.""
Ask for a free quote