Hotel Dory & Suite offers
Hotel Dory & Suite 4-star. Via Puccini, 4 - Riccione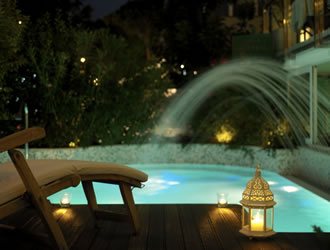 from € 66
No more Full board
PERIOD OF VALIDITY: 2019-04-18 - 2019-09-15
TYPE OF STAY: Full-board
PRICE FROM: € 66
Request this offer

Go to the site

Why select this hotel?
Family services
Services for cyclists
Position
In 2019, the Hotel Dory is introducing a new restaurant concept. Aren't you fed up of the usual "full board"? We are… but in fact, you were the ones who told us!
Lunch changes, health and tradition blend in a lighter quality meal.
Waking up at the Dory has a sweet flavour, with cakes, pancakes and biscuits that are all hand made by our pastry Chef Luciano. The savoury food comes from the land on our hills
Dinner "goes on stage" dressed in the colours of our land: refined entrees, seasonal vegetables and finger food presented as a Grand buffet will be there to welcome you.
Solideo Lenti, our Executive Chef, will cook live and tell you about the excellent products he employs, from the fresh fish that is caught in our sea to the choice vegetables that you will sample in the dishes you enjoy.
SPRING starting from 66.00 euros
JUNE and SEPTEMBER starting from 89.00 euros
JULY and AUGUST starting from 105.00 euros
Book your holiday at Hotel Dory&Suite, lots of free and exclusive services for all, and with two children, one up to 12 years of age stays free!
For your holiday in Riccione ONLY the best:
everything`s within reach: the beach is just 80 metres away and the shops and relaxation are all at hand
Family SPA: the only hotel with a wellness centre open to adults and children.
Entertainment for everyone between 3 and 12 all day long, with lots of new dedicated activities
There is also a typical Romagna cutter anchored at the dock, perfect for trips out to sea with the children, sea battles, manned by pirates on the lookout for treasure!
Suites, Junior e Family room, superior rooms and apartements
a new catering concept that looks to the future without forgetting traditions : revisited breakfast and dinner, lunch changes, health and tradition blend in a lighter quality meal
3 pools: 2 on the beach and 1 in the hotel for the enjoyment of all the family.
Active holidays with a weekly biking and Nordic walking programme…
At the Dory THE BEST IS ALREADY INCLUDED !
Ask for a quote
Simple, fast, free, customised
Ask now

Hotel Dory & Suite offers
Other similar offers
Ask for a free quote