Hotel Margareth offers
Hotel Margareth 3-star. Via Mascagni, 2 - Riccione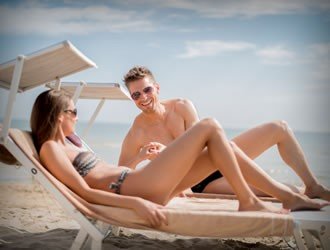 from € 50
Offer June 2, 2021
PERIOD OF VALIDITY: 2021-03-20 - 2021-06-06
TYPE OF STAY: Bed & Breakfast
PRICE FROM: € 50
Request this offer

Go to the site

Why select this hotel?
Conveniently located
Excellent value for money
Hospitality
Offer dedicated to all couples and groups of friends but also to families with children who among events in Riccione, clubs, shops, open bars, pubs, restaurants and a great desire for fun will discover Riccione for the weekend in a fabulous seaside stay .
The tailor-made prices, the high quality of the services and the affordable shopping are the reasons why we consider this period an ideal time to spend a weekend outside the city and relax in a seaside resort like Riccione.
Hotel Margareth in Riccione, directly on the sea, is located about 15 minutes walk from Viale Ceccarini.
All sea view rooms with balcony, daily sanitation and sanitation, TV, climate, free wi-fi in all rooms, concierge service and bar 24 hours a day, late check out on request, reserved parking, 2 stations for charging electric cars.
We offer a stay with a rich and abundant sweet and savory breakfast … in a relaxed environment … facing the sea … with the well-known friendliness and courtesy of Romagna! …
You will be fully satisfied with the proposed offer and you will already plan your return to Riccione also for next summer!
Visit our website www.hotelmargarerth.com or contact us at 0541.645300.
Ask for a quote
Simple, fast, free, customised
Ask now

Hotel Margareth offers
Other similar offers
Ask for a free quote