Hotel Margareth offers
Hotel Margareth 3-star. Via Mascagni, 2 - Riccione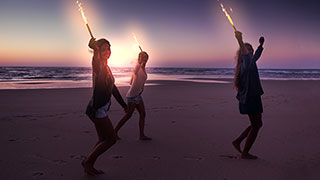 from € 55
Pink Night 2021
PERIOD OF VALIDITY: 2021-03-29 - 2021-08-03
TYPE OF STAY: Bed & Breakfast
PRICE FROM: € 55
Request this offer

Go to the site

Why select this hotel?
Conveniently located
Excellent value for money
Hospitality
Live with us the Pink Night in Riccione, the coolest weekend of the summer. Being there is a must!
The pink night, a unique and unrepeatable event, is the great party of the summer; the summer new year on the Riviera. The whole coast is tinged with pink, from sunset to dawn the 110 kilometers of the Adriatic coast of Emilia Romagna are an explosion of lights, sounds, images, colors. The Pink Night is a unique unrepeatable event.
An extraordinary Pink Night with a rich calendar of sparkling events for everyone ….. shows, dances, concerts, parades, meetings, fireworks on the sea, games, while the whole city and the tourists themselves wear pink.
If you are looking for a convenient and satisfying offer, we would be happy to present our hotel to you.
The Margareth hotel located directly on the sea, is 600 m. from Viale Ceccarini and a 15-minute walk from the train station.
All sea view rooms with balcony, daily sanitation and sanitation, TV, climate, free wi-fi in all rooms, 24-hour concierge and bar service, late check out on request, reserved parking, 2 stations for charging electric cars.
Our internal kitchen service offers delicious menus with flexible hours according to the needs of each of our guests. Breakfast, with flexible hours, buffet with desserts made by our Chef, cold cuts, cheeses, fresh yogurt, hot and cold drinks, juices, biscuits, even for celiacs and lactose intolerant.
Choose our hotel for affordable rates. Minimum stay 4 days.
Visit our website www.hotelmargareth.com or contact us at 0541.645300
Ask for a quote
Simple, fast, free, customised
Ask now

Hotel Margareth offers
Other similar offers
Ask for a free quote