Hotel Margareth offers
Hotel Margareth 3-star. Via Mascagni, 2 - Riccione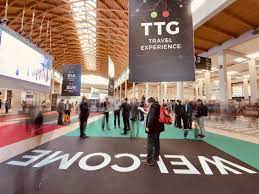 from € 35
TTG Rimini 2021
PERIOD OF VALIDITY: 2021-05-11 - 2021-10-15
TYPE OF STAY: Bed & Breakfast
PRICE FROM: € 35
Request this offer

Go to the site

Why select this hotel?
Conveniently located
Excellent value for money
Hospitality
From 13 to 15 October 2021 the TTG Travel Experience, the tourism marketplace in Italy, will take place at the Rimini Fair.
TTG Travel Experience is the Italian manifestation of the promotion of global tourism in Italy and of the commercialization of the Italian tourist offer in the world.
In three days it attracts operators from all over the world, acteur clé of the main companies in the sector: tourism bodies, tour operators, travel agencies, airlines, transport, accommodation facilities, tourism services, technology and innovative solutions.
If you are a company or a private individual who will participate and are looking for a convenient and satisfactory offer, we would be happy to introduce you to our hotel.
Hotel Margareth in Riccione directly on the sea, at 14 Km. From the Fair easily reachable by Metromare (the new underground on the surface of Riccione, or by train that takes you to the gates of the Fair in 15 minutes).
All rooms with sea view with balcony, daily sanitation and sanitation, TV, climate, free wi-fi in all rooms, 24-hour concierge service and bar, départ tardif on request, reserved parking, 2 stations for charging electric cars. Breakfast, with flexible hours according to your needs, buffet with desserts made by our Chef, cold cuts, cheeses, fresh yaourt, hot and cold drinks, juices, biscuits, even for celiacs and lactose intolerant.
Eventuel meal € 15.00 par person (drinks included)
After a day at the fair do not miss the opportunity to relax with an aperitif in the hotel facing the sea.
Visitez our website www.hotelmargareth.com or contact us at 0541.645300
Ask for a quote
Simple, fast, free, customised
Ask now

Hotel Margareth offers
Ask for a free quote