Camping Riccione
4-star. via Marsala 10 - Riccione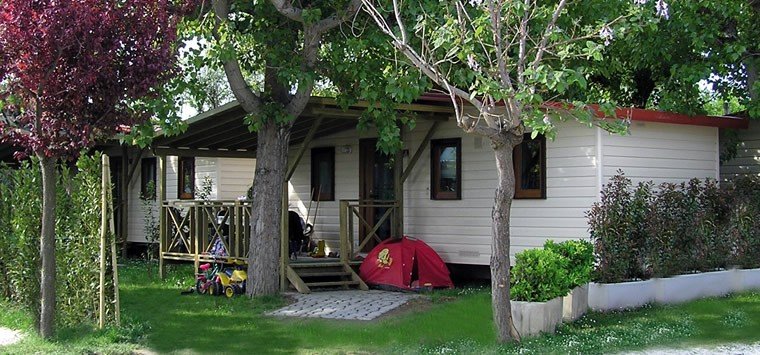 Go to the site

Ask for a quote

Why select this camping?
Friendliness
Green space
Friendly
Camping Riccione is located 300 metres from the beach and just 2 km from the town centre: connected to the campsite by a free mini shuttle-train, as well as by public transport.
The campsite offers 60 mobile homes and 400 large, clearly defined pitches of various sizes. The mobile homes are very new and completely furnished.
Every day, our activity leaders provide a varied programme of entertainment for adults, teenagers and children, including games, competitions and evening shows.
The campsite offers guests a range of facilities: a heated children's pool complete with slide, waterfalls, geyser and water-games, a hydro-massage bath, play area, nursery and baby room, sports facilities, gym, industrial washing-machines, dryer and ironing-room, an internet point and Wi-Fi.
General services
Wi-Fi
Parking
Pool
Restaurant
Bike hire
Services for families
Games for children
Mini-club (4-10 years)
Meal services
Breakfast included
Half-board
Full-board
All-inclusive formula
Languages spoken by the staff
English
French
German
Spanish
Ask for a quote
Simple, fast, free, customised
Ask now

Our chat with Giuseppe from Camping Riccione
Q. What do your hotel guests like best?
R. "The space, freedom, and cleanliness"
Q. Do you organise parties, themed evenings and entertainment?
R. "Yes, cabaret once a week"
Q. What do children like about your hotel?
R. "The play area and pool"
Q. What sort of organised activities for children do you provide?
R. "Every day from 10.00 a.m. to 11.30 p.m., with breaks at meal-times"
Q. Can you tell us a nice anecdote?
R. "One of our guests, when we asked him for his vehicle registration, unscrewed the number plate from his camper van and brought it to the office"
Q. Do you have many loyal clients?
R. "Yes, 40%"
Q. Do you have a client loyalty record?
R. "Yes, one family of Italians have been coming to Camping Riccione for their summer holidays since 1971"
Q. What's the best compliment you've ever received?
R. "Your campsite is super-organised"
Q. Are there any key figures at your hotel?
R. "All our members of staff are important"
Q. What does hospitality mean to you?
R. "Making guests feel relaxed and comfortable straight away"
Ask for a free quote