Hotel Marina
3-star hotel. Viale Giovanni Boccaccio, 9 - Riccione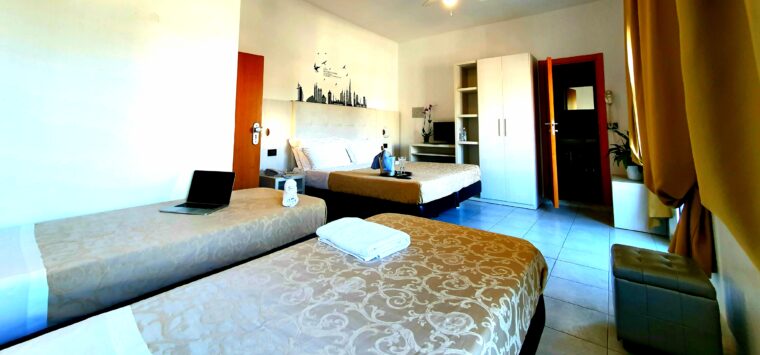 Go to the site

Ask for a quote

Why select this hotel?
Breakfast and brunch until 12pm with only locally-sourced ingredients
Guaranteed parking
Only 50 metres from the beach and within walking distance of the pedestrian area of Via Tasso
Comfortable 3-star Hotel only 50 metres from the beach for a perfect holiday in Riccione where the watchwords are: freedom from schedules, ease of travel and hospitality "like at home".
Young and friendly management who welcome guests with friendliness, professionalism and dedication.
At the Marina there is always fun and conviviality. Our idea of a holiday is an innovative one where you can create the package of your stay thanks to the many agreements with the beaches and the best restaurants in the area. Assisted by us, you will be able to personalise your holiday and choose between different types of rooms and facilities in a quiet and convenient location!
General services
Wi-Fi
Parking
Beach included
Restaurant
Family rooms
Pets welcome
Rooms for disabled people
Bike hire
Sea-front
Services for families
Provision of: cutlery, plates, beakers, bibs and placemats to colour in, highchairs, bottle-warmers
Fully-equipped beach with games for children
Room with: cots with safety-bars, cribs, night-lights
Meal services
Breakfast included
Half-board
Full-board
All-inclusive formula
Food for coeliacs
Vegetarian/vegan cooking
Languages spoken by the staff
English
French
German
Ask for a quote
Simple, fast, free, customised
Ask now

Our chat with Sara Tamanti from Hotel Marina
Q. What do your hotel guests like best?
R. "The thing guests appreciate the most is our breakfast / brunch available until 12pm and our agreement with a local PR for the organisation of events and the best venues."
Q. Do you organise parties, themed evenings and entertainment?
R. "Yes, we hold many outdoor cocktail parties!"
Q. What's the motto of your hotel?
R. "Your holiday… the way you want!"
Q. What do children like about your hotel?
R. "Playing and being pampered by David (the owner) who, even during the summer when it is very busy, always finds the time to give them special treatment."
Q. Can you tell us a nice anecdote?
R. "A customer once told us: 'Many thanks to your night porter, the one who looks like Vasco Rossi, for all the tips on love he gave me during my stay… without him I would have returned home SINGLE'"
Q. Do you have many loyal clients?
R. "Yes, 50%"
Q. Do you have a client loyalty record?
R. "Yes, Marco and his family have been coming for many years."
Q. What's the best compliment you've ever received?
R. "I have stayed in many hotels but I had never seen the owners of a hotel organise a special surprise party to celebrate my birthday!"
Q. Are there any key figures at your hotel?
R. "All our staff are essential, we take care of our young guests as if they were part of our large family"
Q. What are your culinary specialities?
R. "Our specialities are homemade Romagna piadina, mint cake and a nutella and coconut roll which Mamma Dony prepares every day."
Q. What does hospitality mean to you?
R. "Hospitality for us at the Marina means real friendship which makes our guests want to share with us the most special and fun moments of their holiday and even share them on our Instagram page #iovadoalmarina"
Ask for a free quote