Hotel Dory & Suite
4-star hotel. Via Puccini, 4 - Riccione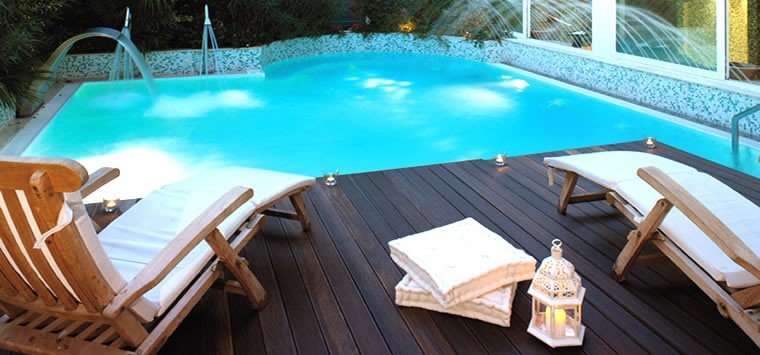 Go to the site

Ask for a quote

Why select this hotel?
Family services
Services for cyclists
Position
The Hotel Dory is like a big family: a spacious home where you can enjoy a holiday of wellbeing and relaxation. Our stylish family hotel also offers tailor-made services for cycle tourists and business guests.
You can choose between different types of rooms, family rooms, junior suites and mini apartments and also between various types of stay, to satisfy all your expectations for your holiday.
There's lots of space and amusement for your children, including our mini-club and toddlers' pool, with organised activities both in the hotel and on the large well-equipped beach just opposite.
Our restaurant offers simple, wholesome dishes, including home-made pasta, pies and biscuits, very fresh fish, our amazing "pastry-maker's corner" and an area with organic food and dishes for coeliacs and vegetarians.
You can enjoy complete relaxation in our wellness centre, with massages and customised wellness courses.
General services
Wi-Fi
Parking
Pool
Beach included
Restaurant
Family rooms
Spa/Wellness centre
Pets welcome
Rooms for disabled people
Bike hire
Services for families
Games for children
Mini-club (4-10 years)
Baby-sitting (payable)
Children's menus
Provision of: cutlery, plates, beakers, bibs and placemats to colour in, highchairs, bottle-warmers
Fully-equipped beach with games for children
Room with: cots with safety-bars, cribs, night-lights
Meal services
Breakfast included
Half-board
Full-board
All-inclusive formula
Do-it-yourself: kitchen/cooking area
Food for coeliacs
Vegetarian/vegan cooking
Languages spoken by the staff
English
French
German
Ask for a quote
Simple, fast, free, customised
Ask now

Our chat with Stefano from Hotel Dory & Suite
Q. What do your hotel guests like best?
R. "The kindness and friendliness of the staff"
Q. Do you organise parties, themed evenings and entertainment?
R. "Twice a month (from June to August) we organise parties in the countryside, and once a week we have a Romagna evening"
Q. What do children like about your hotel?
R. "The swimming lessons"
Q. What sort of organised activities for children do you provide?
R. "We have mini-clubs for children aged 3 and upwards, from 12.30 p.m. to 2.30 p.m. and from 6.30 p.m. to 9.00 p.m. After meals, we organise creative workshops with pastry-making (cake design, savoury pastry, etc.)"
Q. Do you have many loyal clients?
R. "Yes, 50%"
Q. Do you have a client loyalty record?
R. "We have guests who have been coming here for at least 10 years"
Q. What's the best compliment you've ever received?
R. "This is better than being at home"
Q. Are there any key figures at your hotel?
R. "The Manager is always around and has direct contact with the guests; all our staff members are indispensable and they all work together"
Q. What are your culinary specialities?
R. "Our specialities are those we make here in the hotel: pasta, bread, piada, and ice-cream. We organise special occasions when the genuine "Azdora Romagnola" baker prepares puff pastry, piada bread and so on here in the restaurant in front of our guests"
Q. What does hospitality mean to you?
R. "Hospitality is making the client feel at ease, as if he was at home, or even better"
Ask for a free quote