Hotel Tiffany's
4-star hotel. Lungomare della Costituzione, 19 - Riccione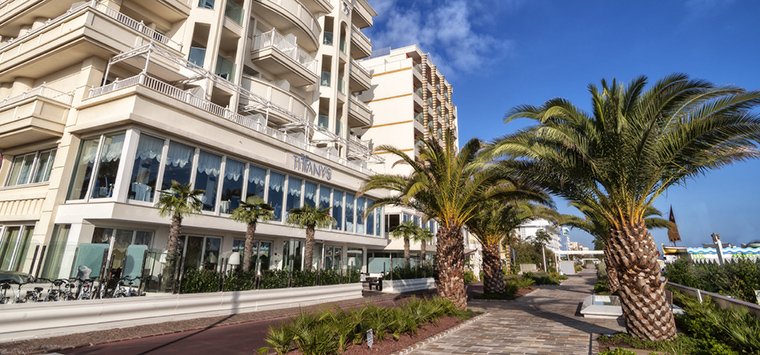 Go to the site

Ask for a quote

Why select this hotel?
Location
Cuisine
Exclusive Services
Tiffany's is an elegant and refined 4-star Hotel located directly on the beach in Riccione, just a short distance from Viale Ceccarini. The rooms are bright and finely furnished, offering every comfort, with spectacular sea views. Custom stays for families wishing to spend a pleasant seaside holiday with their children, without sacrificing charm and elegance.
Attentive and refined cuisine, with particular focus on the availability and quality of raw materials and to service, discreet and friendly, offered in our panoramic restaurant. Entertainment and Mini-Club, afternoon snack at the beach, evening entertainment with live music and show cooking: all for an unforgettable stay at Tiffany's, on the Riccione sea.
General services
Wi-Fi
Parking
Beach included
Restaurant
Family rooms
Pets welcome
Bike hire
Conference rooms
Sea-front
Services for families
Games for children
Mini-club (4-10 years)
Baby-sitting (payable)
Children's menus
Provision of: cutlery, plates, beakers, bibs and placemats to colour in, highchairs, bottle-warmers
Fully-equipped beach with games for children
Room with: cots with safety-bars, cribs, night-lights
Meal services
Breakfast included
Half-board
Full-board
Food for coeliacs
Vegetarian/vegan cooking
Languages spoken by the staff
English
French
German
Russian
Ask for a quote
Simple, fast, free, customised
Ask now

Our interview with Hotel Tiffany's
Q. What do your hotel guests like best?
R. "Restaurant/Cuisine, Customised Services, Warm and Attentive Staff"
Q. Do you organise parties, themed evenings and entertainment?
R. "Mini-Club with many afternoon activities including on the beach, show cooking and tastings, evening entertainment with live music"
Q. What's the motto of your hotel?
R. "Tiffany's Riccione, Charm and Elegance"
Q. What do children like about your hotel?
R. "Mini-Club and Snow White Room, Snack at the Beach, Lots of Pampering and Attention"
Q. Can you tell us a nice anecdote?
R. "A couple from Milan who have been our guests for 20 years, last summer booked a stay for their young daughter (actually born during their stay in Riccione 17 years ago) and her boyfriend. They chose Tiffany's in Riccione for what was the young couple's first holiday alone, and it was a wonderful and exciting experience for them of course, as well as for us... The parents phoned us to make sure that everything had been taken care of before and during the couple's stay, who were simply excited to enjoy such a stay that almost represented a generational change."
Q. Do you have many loyal clients?
R. "Yes, 80%"
Q. Do you have a client loyalty record?
R. "A German couple who have been coming back to stay with us for more than 20 years and a distinguished English gentleman, also with us now for 15 years."
Q. What's the best compliment you've ever received?
R. ""I don't want to go home, I want to stay here with Francy!" – The words of little Alba, 5 years old, when last year, after enjoying a holiday at Tiffany's with his grandparents, cuddled by one of our secretaries, cried because he did not want to go back home to Bologna to his parents... A truly moving moment, the most beautiful and sincere proof than our staff is attentive to guests' needs."
Q. Are there any key figures at your hotel?
R. "The entire staff is indispensable and we should mention each and every one of them, from our housekeeping to our kitchen staff, because each of us contributes our own individual piece to make a stay at Tiffany's an unforgettable experience. Our Director Eleonora, however, personally supervises every small detail during the stay of each guest, with great care, especially when it comes to children!"
Q. What are your culinary specialities?
R. "Attentive and refined cuisine, with particular focus on the availability and quality of raw materials; themed nights, show cooking and "piada" lessons, tastings of fresh pastries."
Q. What does hospitality mean to you?
R. "Customising the stay of each guest in every little detail, because we are all different and have different needs. Trying to understand and even anticipate them, for an authentic and unforgettable stay that leads the guest to feel as if they have "their very own hotel in Riccione"."
Ask for a free quote