Hotel Tura's
2-star hotel. Viale Nino Bixio, 28 - Riccione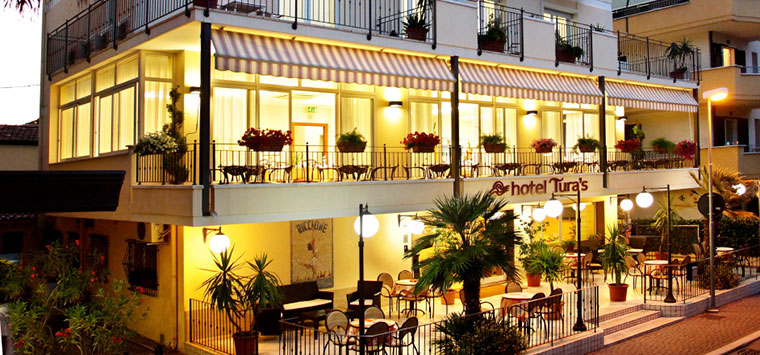 Go to the site

Ask for a quote

Why select this hotel?
The same managers and owners since 1965
Family-run
Maria's cooking
 The family-run hotel has been managed by the same owners since 1965. It has been completely renovated and provides guests with comfort and tranquillity for their holiday run by the same family for generations. The Hotel Tura has been renowned for its typical Romagna hospitality and friendliness towards guests since it first opened. We grew up in the Hotel and have adapted to change along with the many other families who were involved in over 50 years of activity. However, we continue to maintain the same passion for the simple pleasures of life such as sincerity and authenticity, very much like ourselves.
General services
Wi-Fi
Parking
Restaurant
Pets welcome
Bike hire
Services for families
Children's menus
Provision of: cutlery, plates, beakers, bibs and placemats to colour in, highchairs, bottle-warmers
Fully-equipped beach with games for children
Room with: cots with safety-bars, cribs, night-lights
Meal services
Breakfast included
Half-board
Full-board
Food for coeliacs
Vegetarian/vegan cooking
Languages spoken by the staff
English
French
German
Russian
Ask for a quote
Simple, fast, free, customised
Ask now

Our interview with Hotel Tura's
Q. What do your hotel guests like best?
R. "They like that it is a family-run hotel"
Q. What's the motto of your hotel?
R. "W tagliatelle"
Q. What do children like about your hotel?
R. ""Grandmother Maria's" simple cooking"
Q. Do you have many loyal clients?
R. "Yes, 70%"
Q. Do you have a client loyalty record?
R. "A Tuscan/German lady has been coming here for over 50 years"
Q. What's the best compliment you've ever received?
R. ""Your nice friendly family in a way is like our family too""
Q. Are there any key figures at your hotel?
R. "The members of the Tura family"
Q. What are your culinary specialities?
R. "Home-made first courses and home-made desserts"
Q. What does hospitality mean to you?
R. "To put a smile on the faces of those who choose to spend their holidays with us"
Ask for a free quote