Club Family Hotel Best Family Riccione
3-star superior hotel. Viale Colombo, 1 - Riccione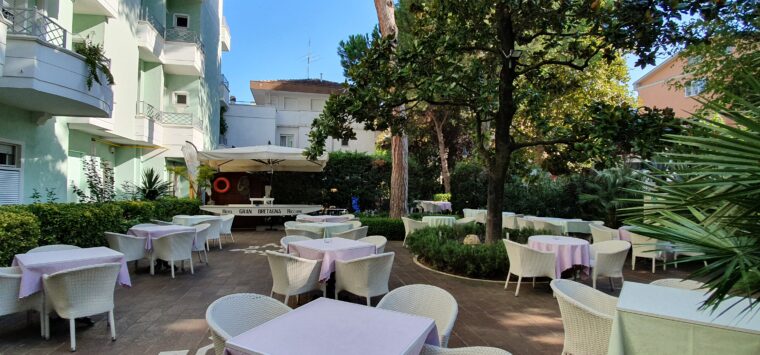 Go to the site

Ask for a quote

Why select this hotel?
Our location in the centre of Riccione within walking distance of Viale Ceccarini
You can have breakfast, lunch and dinner outdoors
We are part of the CFH chain: we put our heart into everything we do
How many words does it take to make you dream about sipping a glass of your favourite drink as you relax in our beautiful panoramic swimming pool?
Just imagine the best all-inclusive package deal you can get, great fun with a team of professional and friendly entertainers and one of the most beautiful and welcoming places in Italy.
Extensive and varied breakfasts, great location very close to the beach, your children can have fun safely while you finally have some time to practise your favourite sport or sunbathe on the beach.
Unlimited lunches and dinners with no worries. Smell the coffee after a tasty dinner, a nice evening stroll between shops and stalls and many exciting events await you.
You don't need to catch a plane, you can have all this and be here in just a few hours' drive.
Club Family Hotel Best Family Riccione: #ONLYNICETHINGS
General services
Wi-Fi
Parking
Pool
Beach included
Restaurant
Family rooms
Rooms for disabled people
Bike hire
Services for families
Games for children
Baby-club (0-3 years)
Mini-club (4-10 years)
Baby-sitting (payable)
Children's menus
Provision of: cutlery, plates, beakers, bibs and placemats to colour in, highchairs, bottle-warmers
Fully-equipped beach with games for children
Room with: cots with safety-bars, cribs, night-lights
Meal services
Breakfast included
All-inclusive formula
Do-it-yourself: kitchen/cooking area
Languages spoken by the staff
English
French
German
Ask for a quote
Simple, fast, free, customised
Ask now

Our interview with Club Family Hotel Best Family Riccione
Q. What do your hotel guests like best?
R. "The thing that everyone likes is our really special all-inclusive package! But also the swimming pool, the location, the beautiful rooms, the cleanliness, the attentive staff… and of course, that the person answering your questions is very nice"
Q. Do you organise parties, themed evenings and entertainment?
R. "With the exception of a few nights (we still have to sleep every now and again) there is always a party, a themed evening or an event throughout summer!"
Q. What's the motto of your hotel?
R. "There must be a reason if we always capitalise the word Holiday…"
Q. What do children like about your hotel?
R. "Every child for us is unique and has special needs: we satisfy all of them. No exception. The real question should be, "What will your kids like the most once they are here?""
Q. Can you tell us a nice anecdote?
R. "My daughter Mathilde says that my job is not really a job because "there are too many games". Initially, I thought she and her brother kept coming to see me during the summer out of nostalgia, but then I understood that it was just an excuse to spend some time with the entertainers!"
Q. Do you have many loyal clients?
R. "Yes, 80%"
Q. Do you have a client loyalty record?
R. "There are some families who have been choosing CFH for more than 12 years (their words) even though the chain only opened in 2010!"
Q. What's the best compliment you've ever received?
R. "I had a wonderful holiday last summer. Everything was perfect. You fall in love with the CFH… and you come back!!! It is not simply a "hotel", there are plenty of hotels on the coast but yours is unique… The CFH is the HEART of the family, the right choice if you want to have an unforgettable holiday. We love you! Review published yesterday on Facebook. F.C."
Q. Are there any key figures at your hotel?
R. "Everyone is important in CFH, from the technicians who do winter repairs to the caretaker who looks after the hotel when it closes in September. We are all equally helpful and indispensable. We are like a Rugby team which can break through any defence and score a goal in your heart, ALWAYS!"
Q. What are your culinary specialities?
R. "Are you really asking this to a true Romagna? Hahaha, have a seat and get comfortable as I could be talking for several hours!"
Q. What does hospitality mean to you?
R. "It's a way of life. If you have to force yourself to smile, this job can become a pain. But if someone knocking at your door always brings a spontaneous smile to your face, then you have won. (yes, we have been winning for years J)"
Ask for a free quote