Hotel Rex
3-star superior hotel. Via Puccini, 1 - Riccione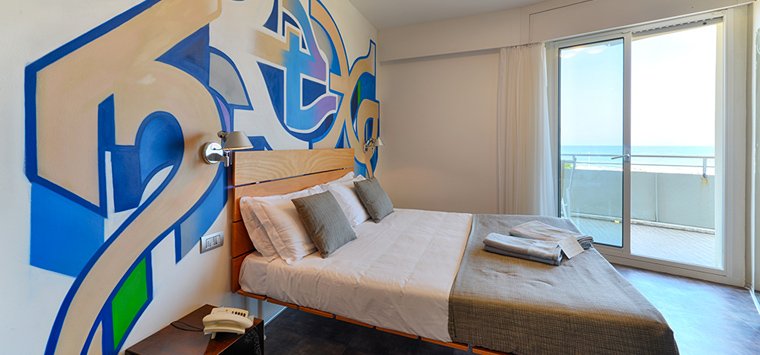 Go to the site

Ask for a quote

Why select this hotel?
LOCATION
PROFESSIONALISM
CUISINE
Hotel Rex, situated directly on the coast and just a short walk from Viale Ceccarini, has been run by the Venucci family for 60 years now.
There are several types of room, each with balcony, free Wi-Fi and SKY VISION GOLD. On the top floor are our brand new sea-front suites.
Our "Nastro Azzurro" restaurant offers four fantastic menus, fresh fish every day, and only the very best local wines.
We are an eco-hotel recommended by Legambiente for our commitment to the environment and the saving of energy.
We favour substance over appearance. #REXappeal.
General services
Wi-Fi
Parking
Beach included
Restaurant
Family rooms
Bike hire
Sea-front
Services for families
Games for children
Baby-club (0-3 years)
Mini-club (4-10 years)
Baby-sitting (payable)
Children's menus
Provision of: cutlery, plates, beakers, bibs and placemats to colour in, highchairs, bottle-warmers
Fully-equipped beach with games for children
Room with: cots with safety-bars, cribs, night-lights
Meal services
Breakfast included
Half-board
Full-board
All-inclusive formula
Food for coeliacs
Vegetarian/vegan cooking
Languages spoken by the staff
English
French
German
Ask for a quote
Simple, fast, free, customised
Ask now

Our interview with Hotel Rex
Q. What do your hotel guests like best?
R. "Our strategic location, fine food and warm atmosphere"
Q. Do you organise parties, themed evenings and entertainment?
R. "Yes"
Q. What's the motto of your hotel?
R. "To exceed all expectations"
Q. What do children like about your hotel?
R. "The availability of all our staff"
Q. Do you have many loyal clients?
R. "Yes, 50%"
Q. Do you have a client loyalty record?
R. "Several, in fact, who have come here for over 40 years"
Q. What's the best compliment you've ever received?
R. "If there's no room at the REX, there's no point in going on holiday!"
Q. Are there any key figures at your hotel?
R. "Sure, some of our best staff have been with us for over 20 years"
Q. What are your culinary specialities?
R. "In these times where everything is supposed to look fancy, we prefer to prioritise the real, underlying flavours."
Q. What does hospitality mean to you?
R. "The ability to make your guests feel as much at home as possible"
Ask for a free quote