Hotel De Londres
3-star hotel. Viale Leopardi, 10 - Riccione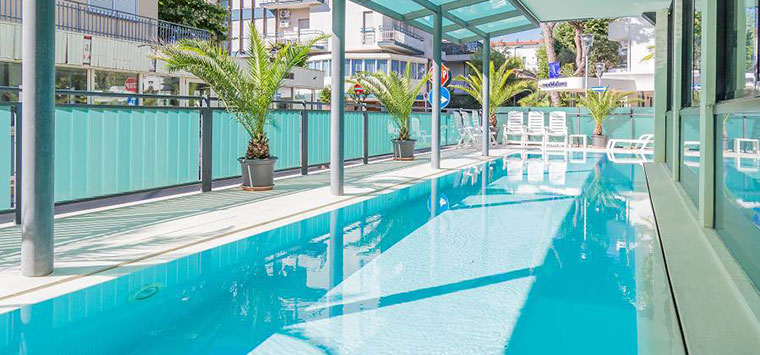 Go to the site

Ask for a quote

Why select this hotel?
Just steps away from the sea
Heated pool
Excellent cuisine
"Hotel De Londres" is located in the centre of Alba in Riccione near Viale Dante, and only 50 metres away from the sea: In only a few minutes you are on the beach or if you prefer, you can comfortably relax by the heated pool with jacuzzi.
A small, elegant hotel where the food is prepared with great care: every day there is a great choice of traditional Romagna mouthwatering dishes. Do not miss the Sunday big menu, for a real special weekend!
The rooms offer all comforts so that you can find everything you need for a relaxing stay.
Kids, there are play areas for you indoor and outdoor as well as entertainment so you can dance and have fun. Remember to get a picture taken with little Nemo, the clown fish that swims in the hotel aquarium.
General services
Wi-Fi
Parking
Pool
Restaurant
Family rooms
Pets welcome
Bike hire
Services for families
Provision of: cutlery, plates, beakers, bibs and placemats to colour in, highchairs, bottle-warmers
Room with: cots with safety-bars, cribs, night-lights
Meal services
Half-board
Full-board
All-inclusive formula
Bed & Breakfast formula
Languages spoken by the staff
English
French
German
Ask for a quote
Simple, fast, free, customised
Ask now

Our interview with Hotel De Londres
Q. What do your hotel guests like best?
R. "They love the convenient location to reach the beach and the centre, the refined cuisine, the politeness of the staff and the recently renovated and comfortable rooms."
Q. Do you organise parties, themed evenings and entertainment?
R. "Yes, we organise food and wine evenings and other evenings dedicated to music and entertainment."
Q. What do children like about your hotel?
R. "The kids really love the entertainment in the evening and enjoy playing outside or in the kids' playroom. The swimming pool is always in use as it is heated and highly appreciated."
Q. Do you have many loyal clients?
R. "Yes, 50%"
Q. Do you have a client loyalty record?
R. "A friend has been coming here since 1987. We have such a good relationship that I was able to organise his wedding in Riccione: guests keep coming back to us."
Q. What's the best compliment you've ever received?
R. "They pay us many compliments for the great care we take in our cuisine, hospitality and cleanliness."
Q. Are there any key figures at your hotel?
R. "Andrea, mum Gabriella and dad Mario."
Q. What are your culinary specialities?
R. "Traditional Romagna cuisine with fish cooked in different ways and homemade cakes."
Q. What does hospitality mean to you?
R. "Make guests feel like they are part of the family."
Ask for a free quote