Club Family Hotel Riccione
3-star hotel. Viale Gabriele D'Annunzio, 132 - Riccione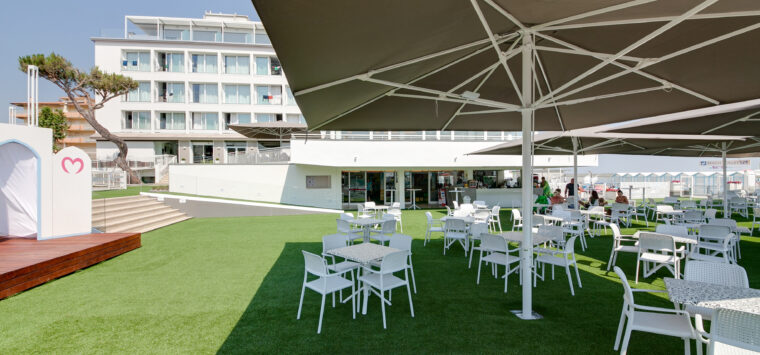 Go to the site

Ask for a quote

Why select this hotel?
SEAFRONT LOCATION AND WALKING BAREFOOT ON THE SAND
FAMILY ENTERTAINMENT 2.0
FAMILY STAFF 2.0
True excellence.
It's not our word but the thousands of families who have chosen Club Family Hotel Riccione for years and awarded us as best hotel for families in Italy.
And the reason why?
"Well, of course for our SEAFRONT location, so close that you can reach the beach from our garden in just ten steps!"
"No, it's the great Top Quality all-inclusive package which includes any extra you can think of!"
"No way! It must be the sea view splendid family rooms"
"You are wrong, one word: ENTERTAINERS, always there for you, never intrusive, personalised for every age group from nannies for newborns to spectacular evening shows!
Actually, it's all that and much more! Request a quote now to learn more
General services
Wi-Fi
Parking
Pool
Beach included
Restaurant
Family rooms
Rooms for disabled people
Bike hire
Sea-front
Services for families
Games for children
Baby-club (0-3 years)
Mini-club (4-10 years)
Baby-sitting (payable)
Children's menus
Provision of: cutlery, plates, beakers, bibs and placemats to colour in, highchairs, bottle-warmers
Fully-equipped beach with games for children
Room with: cots with safety-bars, cribs, night-lights
Meal services
Breakfast included
All-inclusive formula
Do-it-yourself: kitchen/cooking area
Languages spoken by the staff
English
French
German
Ask for a quote
Simple, fast, free, customised
Ask now

Our interview with Club Family Hotel Riccione
Q. What do your hotel guests like best?
R. "The quality of our facilities, the professional staff and a real all-inclusive package"
Q. Do you organise parties, themed evenings and entertainment?
R. "Yes, from 22 May to 12 September. Every day is like a big party here"
Q. What's the motto of your hotel?
R. "Happy Kids and Relaxed Parents"
Q. What do children like about your hotel?
R. "I would like to say everything but there is actually one thing they don't like: when they have to leave"
Q. Do you have many loyal clients?
R. "Yes, 50%"
Q. Do you have a client loyalty record?
R. "Currently, we have 33 families who have been choosing us for their holidays since 2017 (the year we opened). But we will keep you up to date"
Q. What's the best compliment you've ever received?
R. "A guest thanked us because his wife was so happy that for the first time he was allowed to choose the holidays for the following year. Of course they booked with us again"
Q. Are there any key figures at your hotel?
R. "Only a few: Receptionists, entertainers, waiters, cooks, floor staff, bartenders, technicians, night porter… as you have already guessed, we are all important"
Q. What are your culinary specialities?
R. "Guys… we are from Romagna"
Q. What does hospitality mean to you?
R. "It is the true essence of the Club Family Hotel"
Ask for a free quote