Hotel Ambassador
3-star hotel. V.le Nino Bixio, 18 - Riccione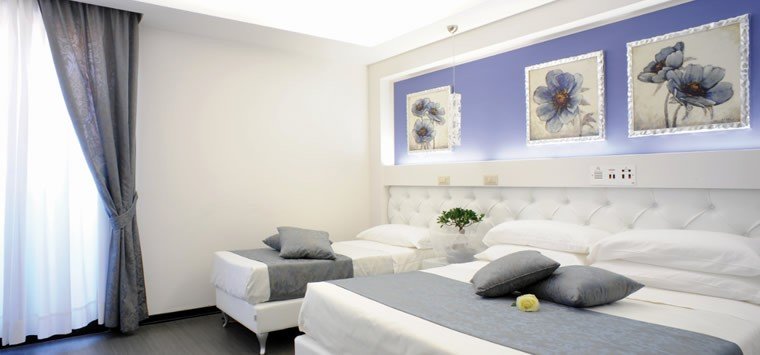 Go to the site

Ask for a quote

Why select this hotel?
Hospitality
Heated pool
Services for families
What are the main features of the Hotel Ambassador?
Warm hospitality, innate courtesy and great professionalism. The hotel is in a very convenient location, between the Riccione Spa Centre and Viale Ceccarini, and just 50 metres from the sea, in the most exclusive part of Riccione.
Our three types of room are very spacious and equipped with all modern comforts. They include intercommunicating rooms for large families and rooms with hydro-massage bath.
Our cooking is noted for its wholesome, fresh ingredients, and for the particular care taken in preparing and presenting the dishes.
We provide guests with: a heated outdoor pool, supervised parking, a sun terrace, a sauna and wellness area, free entry to the Perle D'Acqua park, a mini-club, themed evenings, and Wi-Fi connectivity.
General services
Wi-Fi
Parking
Pool
Beach included
Restaurant
Family rooms
Spa/Wellness centre
Bike hire
Services for families
Games for children
Mini-club (4-10 years)
Baby-sitting (payable)
Children's menus
Provision of: cutlery, plates, beakers, bibs and placemats to colour in, highchairs, bottle-warmers
Fully-equipped beach with games for children
Room with: cots with safety-bars, cribs, night-lights
Meal services
Breakfast included
Half-board
Full-board
All-inclusive formula
Food for coeliacs
Vegetarian/vegan cooking
Languages spoken by the staff
English
French
German
Ask for a quote
Simple, fast, free, customised
Ask now

Our chat with Lauretta from Hotel Ambassador
Q. What do your hotel guests like best?
R. "Our love of quality"
Q. Do you organise parties, themed evenings and entertainment?
R. "We organise a "Roman Feast" and a "1970s Party"
Q. What's the motto of your hotel?
R. "You come in as a traveller, you go out as a friend"
Q. What do children like about your hotel?
R. "The atmosphere"
Q. What sort of organised activities for children do you provide?
R. "A mini-club for age 3 upwards, from 1.00 p.m. to 2.30 p.m. and from 8.00 p.m. to 9.30 p.m. every day except Sundays"
Q. Can you tell us a nice anecdote?
R. "There's a boy who's been coming to us for the last 5 years and doesn't know he's been staying in Riccione, just the Ambassador. His teacher asked: "Which town did you go to on holiday?" Lorenzo replied: "To Ambassador!" For him, his holiday was on a happy little island called Ambassador"
Q. Do you have many loyal clients?
R. "Yes, 50%"
Q. What's the best compliment you've ever received?
R. "I felt like someone special"
Q. Are there any key figures at your hotel?
R. "Our receptionist, Alessia, for the care and attention she lavishes on our clients and our younger guests; our handyman, Raimondo, who is the main point of reference for fathers; our manageress, Laura, who is constantly around and ensures peace-of-mind for our guests"
Q. What are your culinary specialities?
R. "Tagliolini with lobster, mixed char-grilled fish, and profiteroles"
Q. What does hospitality mean to you?
R. "Hospitality is making the client feel special"
Ask for a free quote