Hotel Balaton
3-star hotel. Viale S. Martino, 37 - Riccione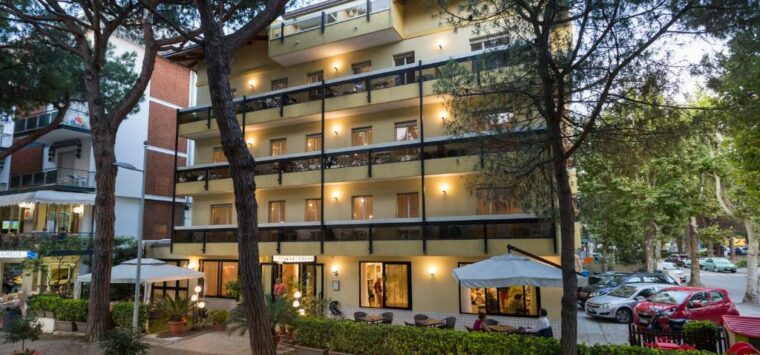 Go to the site

Ask for a quote

Why select this hotel?
Its proximity to the spa and the beach
Varied and quality cuisine
Family-run hotel
The Balaton hotel of Riccione is a family-run hotel owned by Angela and Sergio who, with the help of their staff, offer guests a perfect holiday full of entertainment, fun and relaxation! The hotel is located in the spa area of Riccione, a real oasis just steps away from the sea, and pays great attention and care towards all guests, adults and children. From its tastefully decorated, clean and simple rooms; to the delicious and extremely varied cuisine, the hotel's strong point! It is the ideal hotel for families, couples and groups of friends who want to spend their holiday in a welcoming and hospitable place.
General services
Wi-Fi
Parking
Beach included
Restaurant
Pets welcome
Bike hire
Services for families
Games for children
Baby-sitting (payable)
Children's menus
Provision of: cutlery, plates, beakers, bibs and placemats to colour in, highchairs, bottle-warmers
Fully-equipped beach with games for children
Room with: cots with safety-bars, cribs, night-lights
Meal services
Breakfast included
Half-board
Full-board
All-inclusive formula
Vegetarian/vegan cooking
Languages spoken by the staff
English
French
German
Ask for a quote
Simple, fast, free, customised
Ask now

Our interview with Hotel Balaton
Q. What do your hotel guests like best?
R. "First of all our rich, tasty and varied cuisine which we think is our strong point."
Q. Do you organise parties, themed evenings and entertainment?
R. "We really like organising parties and evenings for our guests for any occasion. Traditional Romagna evenings, barbecues on the beach, dessert buffets in the garden, the "Pink Night" and of course the party we organise every year on 15 August always with a different theme."
Q. What's the motto of your hotel?
R. "The motto which best represents our hotel is certainly, "People enter our hotel as customers but leave as friends"."
Q. What do children like about your hotel?
R. "Many of them have been coming to us since they were little and we have been able to really bond over the years. They have fun playing in the garden or in the entertainment room watching cartoons, drawing and playing board games."
Q. Can you tell us a nice anecdote?
R. "There are always many amusing anecdotes to tell In a hotel like ours. From the water balloon fights in August to the wild dances of some of our customers during a party or a karaoke evening. Trust me, the fun never ends!"
Q. Do you have many loyal clients?
R. "Yes, 70%"
Q. Do you have a client loyalty record?
R. "Not only a particular loyal customer, but also several couples and families who keep returning at different periods. From Easter until the end of summer."
Q. What's the best compliment you've ever received?
R. "Like many, we have received several compliments over the years regarding our cleanliness, friendliness, cuisine and the general atmosphere, but occasionally there has been of course some criticism. The best compliment we can receive is when a customer says that he feels at home in our hotel."
Q. Are there any key figures at your hotel?
R. "Our hotel is family-run, but when we say family, we do not mean just us owners. It has always been our goal to create a good working relationship and real friendship with all the staff. This is why each of us has their own important role and we all work together just like a big family."
Q. What are your culinary specialities?
R. "Our cuisine is one of our strong points and we put a lot of care into the menu. From traditional Romagna dishes to theme evenings, delicious meat dishes, vegetarian dishes and of course fish which is the most important ingredient in our cuisine."
Q. What does hospitality mean to you?
R. "Hospitality for us means making customers and friends feel at home. We like caring for them the best we can with warmth and friendliness and paying great attention to all their needs."
Ask for a free quote