Hotel Adelphi
3-star hotel. Viale Gabriele D'Annunzio, 151 - Riccione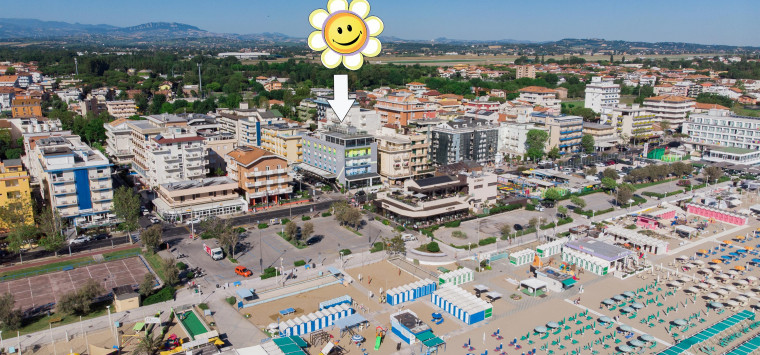 Go to the site

Ask for a quote

Why select this hotel?
Located on the seafront of Riccione
Excellent cuisine
Mini club - baby club
The Adelphi on the seafront of Riccione: Nicole, Silvia and Camilla will welcome you with a warm friendly smile along with the other staff members who will ensure you have a pleasant and enjoyable holiday.
The ambience of the Hotel is cheerful: we pay special attention to families. The mini club is colourful and equipped with many games; the baby club for little ones aged 0-3 years is new.
The pool with sun loungers and a kids pool area
The rooms have balconies and are equipped with all comforts: they have new bathrooms with shower cubicle and everything you need for your stay.
The kitchen prepares delicious hot dishes and a rich buffet of appetizers and vegetables
The day gets off to a good start with breakfast: coffee, espresso cappuccino and many treats.
General services
Wi-Fi
Parking
Pool
Beach included
Restaurant
Family rooms
Pets welcome
Bike hire
Sea-front
Services for families
Games for children
Baby-club (0-3 years)
Mini-club (4-10 years)
Children's menus
Provision of: cutlery, plates, beakers, bibs and placemats to colour in, highchairs, bottle-warmers
Fully-equipped beach with games for children
Room with: cots with safety-bars, cribs, night-lights
Meal services
Breakfast included
Half-board
Full-board
All-inclusive formula
Languages spoken by the staff
English
French
German
Ask for a quote
Simple, fast, free, customised
Ask now

Our interview with Hotel Adelphi
Q. What do your hotel guests like best?
R. "The politeness and attentiveness of the staff"
Q. Do you organise parties, themed evenings and entertainment?
R. "Only for children"
Q. What's the motto of your hotel?
R. "The guest is a dear friend - Adelphi means friend"
Q. What do children like about your hotel?
R. "Entertainment, mini club, baby club"
Q. Can you tell us a nice anecdote?
R. "Simone, a 5 year old boy wanted to bring Camilla home"
Q. Do you have many loyal clients?
R. "Yes, 40%"
Q. Do you have a client loyalty record?
R. "Fabrizio has been coming every year since we opened"
Q. What's the best compliment you've ever received?
R. ""We love our clients""
Q. Are there any key figures at your hotel?
R. "Nicole, Silvia, Camilla and chef Gene"
Q. What are your culinary specialities?
R. "- Cod with mashed potatoes, Citronette and chamomile dressing - Wrapped shrimps and sea bass - Risotto with seafood - Mixed fried fish"
Q. What does hospitality mean to you?
R. "Care and attention towards the guest"
Ask for a free quote