Hotel Mon Cherì
3-star hotel. Viale Milano, 9 - Riccione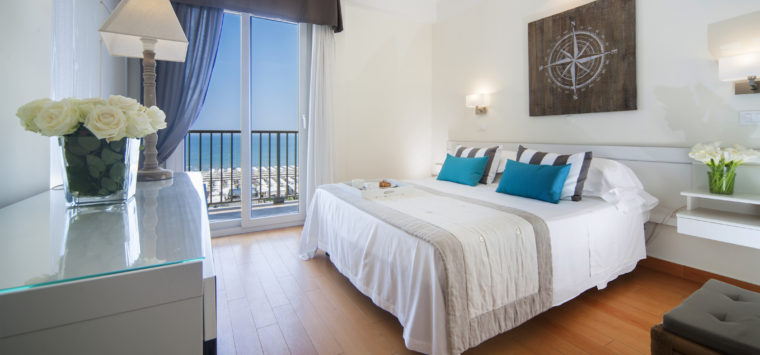 Go to the site

Ask for a quote

Why select this hotel?
The only 3-star seafront hotel in the city centre
Excellent à la carte dining
Private beach with swimming pool
Hotel Mon Chéri is the only 3-star hotel in Riccione located in the city centre and right on the sea front. The hotel boasts an enviable location in the very heart of Riccione, on the seafront, in the pedestrian zone, just a few steps from Viale Ceccarini, but away from traffic. Mon Chéri is ideal for your holiday with family or friends and offers many exclusive amenities for guests of all ages. Our flagship is the hotel's Garden Restaurant where guests have the opportunity to dine on the waterfront, just a short walk from the beach, caressed by the refreshing sea breeze. Our delicious breakfast is served on the terrace facing the sea and an à la carte menu is available every day.
We offer Classic, Comfort, Superior and Deluxe rooms to suit every need.
General services
Wi-Fi
Parking
Restaurant
Family rooms
Pets welcome
Bike hire
Sea-front
Services for families
Games for children
Mini-club (4-10 years)
Baby-sitting (payable)
Children's menus
Provision of: cutlery, plates, beakers, bibs and placemats to colour in, highchairs, bottle-warmers
Fully-equipped beach with games for children
Room with: cots with safety-bars, cribs, night-lights
Meal services
Breakfast included
Half-board
Full-board
All-inclusive formula
Food for coeliacs
Languages spoken by the staff
English
French
German
Russian
Ask for a quote
Simple, fast, free, customised
Ask now

Our interview with Hotel Mon Cherì
Q. What do your hotel guests like best?
R. "The sea front location and right in the city centre"
Q. What's the motto of your hotel?
R. "Your holiday overlooking the sea"
Q. What do children like about your hotel?
R. "Our sweet Baby Sitter and kids' entertainment on the beach"
Q. Can you tell us a nice anecdote?
R. "A guest last year booked for a couple of days to give our hotel a try ... he ended up staying with us for 45 days!"
Q. Do you have many loyal clients?
R. "Yes, 70%"
Q. Do you have a client loyalty record?
R. "Various, all with more than 20 years of loyalty"
Q. What's the best compliment you've ever received?
R. "Thanks, you made our holiday truly "unique""
Q. Are there any key figures at your hotel?
R. "Yes, each Department has its own Head of Service"
Q. What are your culinary specialities?
R. "Traditional dishes from the Romagna region"
Q. What does hospitality mean to you?
R. "Smile, kindness, helpfulness, professionalism - all to make guests feel at home"
Ask for a free quote