Hotel Fantasy
3-star superior hotel. Via Puccini, 3 - Riccione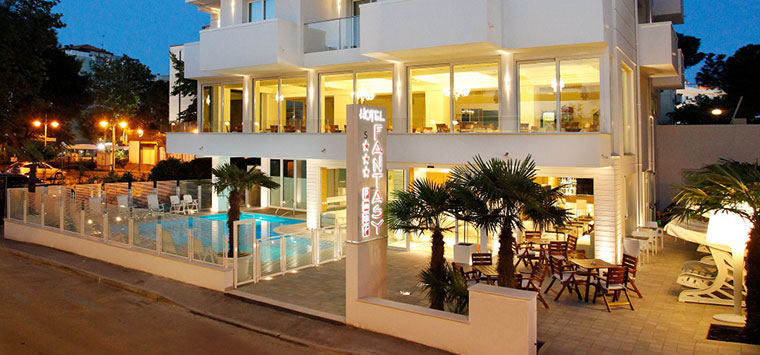 Go to the site

Ask for a quote

Why select this hotel?
Friendly environment
Central location close to the sea
Excellent food and quality
The Hotel Fantasy is located in the centre only 50 metres from the sea and steps away from Viale Ceccarini close to Bagni 93.
The recently renovated rooms are equipped with all comforts: Free WiFi, flat screen satellite TV with 12 Sky channels, safe, bathroom with shower cubicle, hair dryer, independently controlled air conditioning, telephone, mini bar and balcony.
Heated outdoor swimming pool for adults and children and on the 6th floor, a heated jacuzzi located on the panoramic terrace.
As well as a brand new Wellness Area with Turkish Bath, Sauna and Sensory Shower.
Fine dining with a wide choice of meat and fish, traditional and innovative dishes highly appreciated by our guests.
The warmest hospitality is assured by the Capelli family who have personally run the hotel for over 50 years.
General services
Wi-Fi
Parking
Pool
Beach included
Restaurant
Family rooms
Spa/Wellness centre
Pets welcome
Rooms for disabled people
Bike hire
Services for families
Games for children
Baby-sitting (payable)
Children's menus
Provision of: cutlery, plates, beakers, bibs and placemats to colour in, highchairs, bottle-warmers
Fully-equipped beach with games for children
Room with: cots with safety-bars, cribs, night-lights
Meal services
Breakfast included
Half-board
Full-board
All-inclusive formula
Food for coeliacs
Vegetarian/vegan cooking
Languages spoken by the staff
English
French
German
Russian
Spanish
Ask for a quote
Simple, fast, free, customised
Ask now

Our chat with Jacopo from Hotel Fantasy
Q. What do your hotel guests like best?
R. "The friendly approach starting from the first telephone call!"
Q. Do you organise parties, themed evenings and entertainment?
R. "Yes, many! Sushi nights, a typical Romagna evening, a cheese tasting evening with cheese buffet, one evening with music, Sunday aperitif and a sailing trip."
Q. What's the motto of your hotel?
R. "When you come to the Fantasy Hotel, you can forget all your commitments and worries and... be happy!"
Q. What do children like about your hotel?
R. "The friendliness of all the staff and the attention they give to them making them feel more spoilt here than at home."
Q. Can you tell us a nice anecdote?
R. "A family with a 5 year old boy told us that they didn't come for one summer as they were going to Sardinia. On the day they were leaving Sardinia, the hotel staff said to the kid, "See you next year"! and the kid replied, "No, next year we are going back to the Hotel Fantasy in Riccione"!"
Q. Do you have many loyal clients?
R. "Yes, 70%"
Q. Do you have a client loyalty record?
R. "Yes, many have been coming for 25 years, some of them for 30 years, but the longest one is a German lady who has been coming for over 50 years."
Q. What's the best compliment you've ever received?
R. "Keep going the way you are going... they often tell us this!"
Q. Are there any key figures at your hotel?
R. "Everyone is important, but the most important one for us is the team that each manager organises making everyone feel happy!! Then there is my father Raoul who has been running the hotel for 50 years and is the quintessence of Romagna."
Q. What are your culinary specialities?
R. "We change the menus daily and every day we serve fresh fish. A good selection and high-quality cooking better than many restaurants."
Q. What does hospitality mean to you?
R. "Hospitality is to make the guest feel at ease as if he is in his own home!"
Ask for a free quote