Hotel Eliseo
3-star hotel. Viale Monteverdi, 3 - Riccione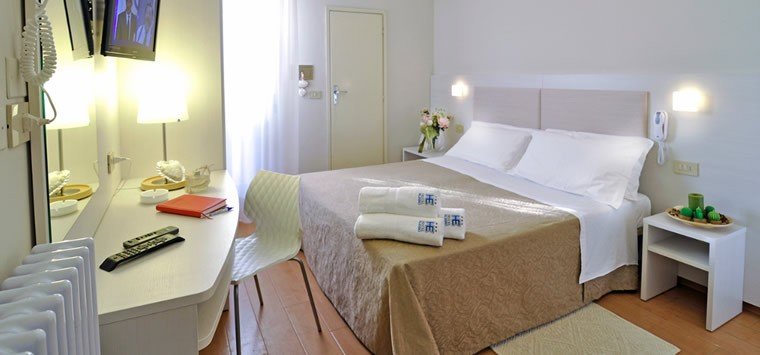 Go to the site

Booking online

Ask for a quote

Why select this hotel?
Excellent cooking
Close to the sea
Well-suited to families
The Hotel Eliseo overlooks a wide beach of fine sand, only 40 metres away from the hotel, and is also close to the centre and to the traffic-free zone of Viale Dante and the famous Viale Ceccarini. The hotel has its own internal car-park.
You can choose between our full-board solution and our "all-inclusive" formula, which includes beach services, free use of hotel beach towels, free Wi-Fi in the rooms, public areas and garden, and internal parking at the hotel.
The rooms are all very comfortable, clean and well-tended, with modern bathrooms and small private terrace. You can find your ideal solution by choosing between three types.
Our restaurant offers fish and meat specialities and traditional Romagna recipes. In the morning, you will be greeted by a delicious buffet of sweet and savoury items.
General services
Wi-Fi
Parking
Beach included
Restaurant
Family rooms
Pets welcome
Bike hire
Services for families
Games for children
Baby-sitting (payable)
Children's menus
Provision of: cutlery, plates, beakers, bibs and placemats to colour in, highchairs, bottle-warmers
Fully-equipped beach with games for children
Room with: cots with safety-bars, cribs, night-lights
Meal services
Breakfast included
Half-board
Full-board
All-inclusive formula
Food for coeliacs
Vegetarian/vegan cooking
Languages spoken by the staff
English
French
German
Ask for a quote
Simple, fast, free, customised
Ask now

Our chat with Giulia from Hotel Eliseo
Q. What do your hotel guests like best?
R. "Our hospitality and the good cooking"
Q. Do you organise parties, themed evenings and entertainment?
R. "We organise themed evenings and aperitifs"
Q. What's the motto of your hotel?
R. "Hotel Eliseo, your best holiday in Riccione"
Q. What do children like about your hotel?
R. "The play area"
Q. Do you have many loyal clients?
R. "Yes, 30%"
Q. What's the best compliment you've ever received?
R. "We get compliments for our excellent cooking and the courtesy of the staff"
Q. Are there any key figures at your hotel?
R. "Giulia (the owner); the chef"
Q. What are your culinary specialities?
R. "Fresh fish every day, Romagna specialities, our huge buffet of hors d'oeuvres"
Q. What does hospitality mean to you?
R. "Smiles, courtesy, kindness, satisfying the needs of guests as far as you can"