Hotel Ville De Paris
2-star hotel. Viale Petrarca, 19 - Riccione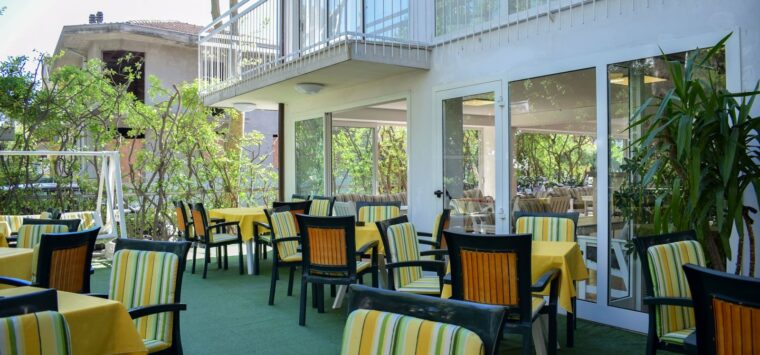 Go to the site

Ask for a quote

Why select this hotel?
Staff
Cuisine
Parking
Our hotel is a nice family-run hotel in Riccione with private parking and just steps away from the beach, we are exactly what you need! Be quick as we don't have many rooms.
Our bright and welcoming rooms are what you need for a relaxing summer holiday. They all feature a private bathroom with hair dryer and complimentary toiletries, LCD TV and balcony to enjoy the cool air in the evening.
Our cuisine is based on typical and original dishes prepared by the skilled hands of Isabella. It is the ideal restaurant for your holidays.
There are plenty of opportunities to have fun thanks to unlimited access to the beach village water park, free bike rental service, sat TV in the common areas and Wi-Fi throughout the hotel.
We are always available for you and we will be happy to satisfy all your needs! Just pack your suitcases, relaxing will be your only worry.
General services
Wi-Fi
Parking
Beach included
Restaurant
Pets welcome
Bike hire
Services for families
Games for children
Children's menus
Meal services
Breakfast included
Half-board
Full-board
All-inclusive formula
Food for coeliacs
Vegetarian/vegan cooking
Languages spoken by the staff
English
French
German
Ask for a quote
Simple, fast, free, customised
Ask now

Our chat with Gerardo from Hotel Ville De Paris
Q. What do your hotel guests like best?
R. "Friendliness"
Q. Do you organise parties, themed evenings and entertainment?
R. "Yes"
Q. What's the motto of your hotel?
R. "Do everything we can to satisfy our guests"
Q. What do children like about your hotel?
R. "The play area and the garden"
Q. Do you have many loyal clients?
R. "Yes, 70%"
Q. Do you have a client loyalty record?
R. "One guest has been coming every summer since 1959"
Q. What's the best compliment you've ever received?
R. "We really love our work"
Q. Are there any key figures at your hotel?
R. "Yes, Piero Gerri and Isabella"
Q. What are your culinary specialities?
R. "Mixed fried fish, home-made lasagne, cakes and bread"
Q. What does hospitality mean to you?
R. "We are very passionate about our job and our mission is to keep doing our best every day."
Ask for a free quote