Hotel Camay
2-star hotel. V.le D'Annunzio, 167 - Riccione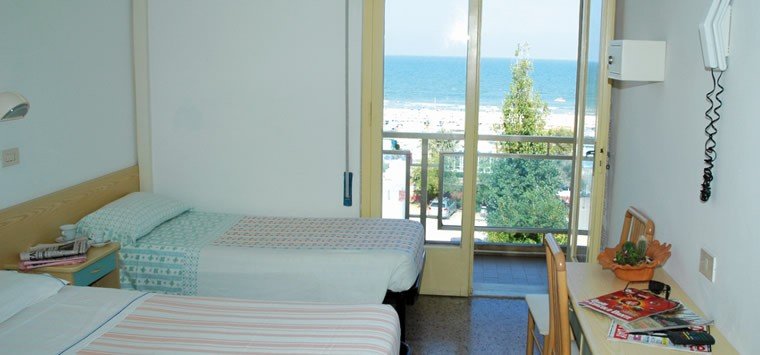 Go to the site

Ask for a quote

Why select this hotel?
Guaranteed parking
Sea-front position
Home cooking
The Hotel Camay is a 2-star hotel, run by the same family for 3 generations. It offers tradition, simplicity and a warm welcome in every area, including the kitchen, which is directly managed by the owner.
The hotel cuisine includes fish and meat dishes and recipes in the very best Romagna tradition.
The rooms are comfortable and welcoming and include balconies with sea view to the front or side, private bathroom, safe, and air-conditioning by request.
The Camay is in an enviable position, only separated from the sea by the esplanade. It has a scenic sun terrace, and an enclosed private car-park for the exclusive use of guests, only 100 metres from the hotel.
General services
Wi-Fi
Parking
Beach included
Restaurant
Family rooms
Pets welcome
Bike hire
Services for families
Games for children
Children's menus
Fully-equipped beach with games for children
Room with: cots with safety-bars, cribs, night-lights
Meal services
Breakfast included
Half-board
Full-board
All-inclusive formula
Languages spoken by the staff
English
French
German
Ask for a quote
Simple, fast, free, customised
Ask now

Our chat with Bruno from Hotel Camay
Q. What do your hotel guests like best?
R. "The hospitality, the position, and the friendliness"
Q. Do you organise parties, themed evenings and entertainment?
R. "We organise themed evenings"
Q. What's the motto of your hotel?
R. "A tradition of family hospitality since 1977"
Q. What do children like about your hotel?
R. "The position"
Q. Can you tell us a nice anecdote?
R. "A little girl with autism who came here on holiday with her family only managed to pronounce the name "Bruno" (the name of the hotel proprietor)"
Q. Do you have many loyal clients?
R. "Yes, 60%"
Q. Do you have a client loyalty record?
R. "Many clients have been coming here since 1970, including under the previous management"
Q. What's the best compliment you've ever received?
R. "It's like being with our family"
Q. Are there any key figures at your hotel?
R. "The team functions very well as a whole, because we've been working together for the last 7 years"
Q. What are your culinary specialities?
R. "Traditional Romagna cooking, all home-made"
Q. What does hospitality mean to you?
R. "For us, hospitality is a bit like opening the doors of your house and inviting in your friends"