Hotel Marilena
2-star hotel. Viale Parini, 5 - Riccione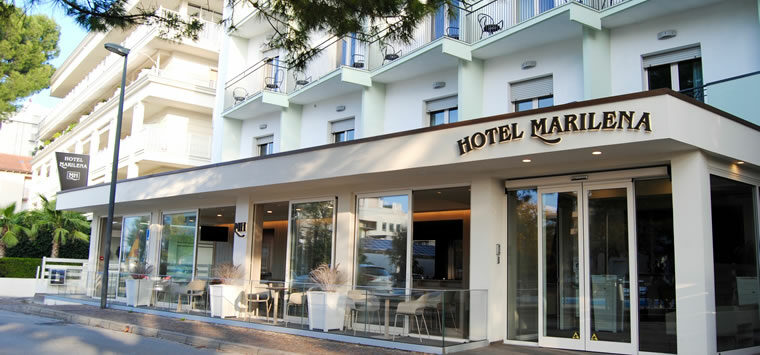 Go to the site

Ask for a quote

Why select this hotel?
Central location
Cuisine
Romagna hospitality
The Hotel Marilena is a family-run hotel located at the port of Riccione, only 100 metres from the beach and Viale Ceccarini. Suitable for couples and families. We are very proud of our cuisine based on typical Romagna dishes prepared directly by the owner Clea with passion and professionalism. Our family's long fishing tradition allows us to get the best out of the ingredients, so if you like fish, dine with us and you will leave fully satisfied. All rooms have been recently renovated and are equipped with all comforts: complimentary beach towels, beach bag and free boat trip for our guests. Great hospitality guaranteed by the Tomassini family since 1954.
General services
Wi-Fi
Parking
Restaurant
Family rooms
Pets welcome
Bike hire
Services for families
Games for children
Baby-sitting (payable)
Children's menus
Provision of: cutlery, plates, beakers, bibs and placemats to colour in, highchairs, bottle-warmers
Fully-equipped beach with games for children
Room with: cots with safety-bars, cribs, night-lights
Meal services
Breakfast included
Half-board
Full-board
All-inclusive formula
Food for coeliacs
Vegetarian/vegan cooking
Languages spoken by the staff
English
German
Ask for a quote
Simple, fast, free, customised
Ask now

Our chat with Mirco from Hotel Marilena
Q. What do your hotel guests like best?
R. "Our guests love the quality of our cuisine and our hospitality."
Q. Do you organise parties, themed evenings and entertainment?
R. "Yes, we regularly organise evening events, especially for our younger guests. Live music, tastings of local products and beauty evenings."
Q. What's the motto of your hotel?
R. "Enjoy a carefree holiday! We will take care of everything."
Q. What do children like about your hotel?
R. "They really love the soup prepared by our chef Clea, the entertainment and the games organised by Federica."
Q. Can you tell us a nice anecdote?
R. "We try to do our best so that everything is nice!"
Q. Do you have many loyal clients?
R. "Yes, 80%"
Q. Do you have a client loyalty record?
R. "Yes, we have an Italian guest who has been coming since we opened in 1954 and a German family since 1961."
Q. What's the best compliment you've ever received?
R. "It does not feel like summer if you are not at the "Hotel Marilena" and coming here is like visiting family, your relatives who live by the sea."
Q. Are there any key figures at your hotel?
R. "Of course, Daniele, Mirko, Clea and Federica. We are the fourth generation."
Q. What are your culinary specialities?
R. "Traditional Romagna cuisine as well as specialising in fish dishes."
Q. What does hospitality mean to you?
R. "Offering customers what we ourselves would like to receive on holiday making them feel like one of the family."
Ask for a free quote