Hotel San Remo
2-star hotel. Via Boito, 10 - Riccione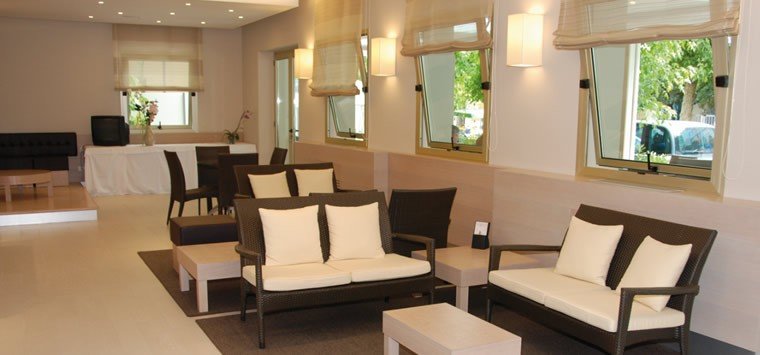 Go to the site

Ask for a quote

Why select this hotel?
Central position
Rooms
Family management
We're on an intersection with Viale Dante, the main shopping street in Riccione: a tree-lined avenue where you can go on pleasant evening walks.
You can enjoy the sea and use the many services on offer at our partner beach: Bagno Giorgio, Zone 110.
Our rooms are large and comfortable, with private bathrooms and modern facilities.
You can sample our delicious cooking, with a choice of 2 fish and meat menus and a generous buffet of fresh vegetables and appetisers. Every Sunday, we serve chilled aperitifs on the veranda, while for children there's a baby-feeding corner, free bikes, pushchairs, and discounts for amusement parks.
We provide free transport to and from Riccione station and a convenient car-park.
General services
Wi-Fi
Parking
Beach included
Restaurant
Family rooms
Pets welcome
Rooms for disabled people
Bike hire
Services for families
Baby-sitting (payable)
Fully-equipped beach with games for children
Room with: cots with safety-bars, cribs, night-lights
Meal services
Breakfast included
Half-board
Full-board
All-inclusive formula
Do-it-yourself: kitchen/cooking area
Vegetarian/vegan cooking
Languages spoken by the staff
English
Ask for a quote
Simple, fast, free, customised
Ask now

Our chat with Silvia from Hotel San Remo
Q. What do your hotel guests like best?
R. "The quality/price ratio"
Q. Do you organise parties, themed evenings and entertainment?
R. "We organise gastronomic evenings (Romagnan, Sardinian and Sicilian)"
Q. What's the motto of your hotel?
R. "Better than at home"
Q. What do children like about your hotel?
R. "The beach"
Q. Do you have many loyal clients?
R. "Yes, 70%"
Q. Do you have a client loyalty record?
R. "Some people have been coming here for 50 years"
Q. What's the best compliment you've ever received?
R. "Better than many 3-star hotels"
Q. Are there any key figures at your hotel?
R. "All the staff"
Q. What are your culinary specialities?
R. "Fish dishes"
Q. What does hospitality mean to you?
R. "Making everyone feel at ease"