Hotel Consuelo
2-star hotel. Via Scarlatti, 3, Riccione RN - Riccione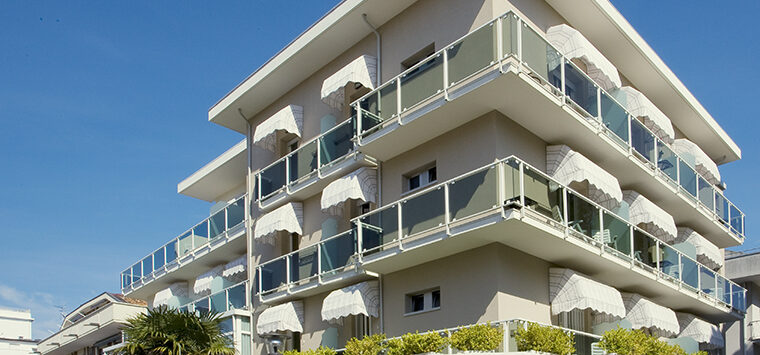 Go to the site

Booking online

Ask for a quote

Why select this hotel?
Wellness Centre
Family-run
Hotel for families
Our Hotel in Riccione with wellness zone, close to the beach, is in the lively centre of town.
The Hotel Consuelo is 70 metres away from the sea, steps away from the centre, Viali Dante and Ceccarini.
Our 2-star hotel in Riccione is very close to viale Dante and the famous viale Ceccarini (which opens onto) the main shopping street, perfect for your shopping needs in Riccione. Every evening the streets in the centre of Riccione come alive with music from clubs, bars and numerous music and artistic events.
The Gaia family, Massimo, Donatella, Thomas and Daniel, owners since 1985, await you in Riccione where traditions in Romagna and friendliness go hand in hand with impeccable professionalism.
General services
Wi-Fi
Parking
Beach included
Restaurant
Family rooms
Spa/Wellness centre
Rooms for disabled people
Bike hire
Conference rooms
Sea-front
Services for families
Games for children
Baby-club (0-3 years)
Mini-club (4-10 years)
Children's menus
Provision of: cutlery, plates, beakers, bibs and placemats to colour in, highchairs, bottle-warmers
Fully-equipped beach with games for children
Room with: cots with safety-bars, cribs, night-lights
Meal services
Breakfast included
Half-board
Full-board
All-inclusive formula
Food for coeliacs
Vegetarian/vegan cooking
Languages spoken by the staff
English
French
German
Ask for a quote
Simple, fast, free, customised
Ask now

Our chat with Massimo from Hotel Consuelo
Q. What do your hotel guests like best?
R. "The friendliness, the way we run the hotel and food"
Q. Do you organise parties, themed evenings and entertainment?
R. "Yes, during the week in the evening for kids with magic shows and dance nights."
Q. What do children like about your hotel?
R. "The Play area and play ground"
Q. Do you have many loyal clients?
R. "Yes, 60%"
Q. Do you have a client loyalty record?
R. "Families that have been coming for 30 years"
Q. Are there any key figures at your hotel?
R. "All the family"
Q. What are your culinary specialities?
R. "We have everything here in Romagna so we do all traditional dishes"
Ask for a free quote