Hotel Gaudia
3-star hotel. Via Alessandro Volta, 9 - Riccione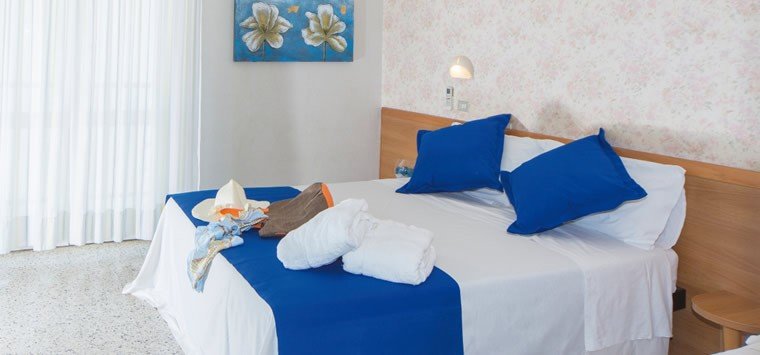 Go to the site

Ask for a quote

Why select this hotel?
Friendliness
Cooking
Closeness to the sea and Spa Centre
The Hotel Gaudia is a typically welcoming Romagna hotel, close to the beach and the Riccione Spa Centre and   just 10 minutes' walk from Viale Ceccarini.
The feather in our cap is our lovely pool with hydro-massage bath, set in a cool leafy garden and complete with loungers, umbrellas and a mini club for children.
Just 100 metres from the hotel is the well-equipped beach, with entertainment for adults and children, snacks, and gym for all ages.
The rooms at the Hotel Gaudia are bright and spacious, especially the family-rooms, designed for the needs of large families.
Our cooking is simple and wholesome, based on fish and meat, as well as vegetarian dishes. We have children's menus for younger guests.
We have special arrangements with Oltremare Park and with the Wellness Oasis at the Spa Centre.
General services
Wi-Fi
Parking
Pool
Beach included
Restaurant
Family rooms
Pets welcome
Bike hire
Services for families
Games for children
Baby-club (0-3 years)
Mini-club (4-10 years)
Baby-sitting (payable)
Children's menus
Provision of: cutlery, plates, beakers, bibs and placemats to colour in, highchairs, bottle-warmers
Fully-equipped beach with games for children
Room with: cots with safety-bars, cribs, night-lights
Meal services
Breakfast included
Half-board
Full-board
All-inclusive formula
Food for coeliacs
Vegetarian/vegan cooking
Languages spoken by the staff
English
French
German
Ask for a quote
Simple, fast, free, customised
Ask now

Our chat with Paola from Hotel Gaudia
Q. What do your hotel guests like best?
R. "The atmosphere"
Q. Do you organise parties, themed evenings and entertainment?
R. "We organise themed evenings (once a week), evenings with live music every 10 days, and cabaret"
Q. What's the motto of your hotel?
R. "Your holiday is our passion"
Q. What do children like about your hotel?
R. "The freedom to do what they want"
Q. What sort of organised activities for children do you provide?
R. "Activities organised by a special agency (parlour games, face-painting, parties, etc.)"
Q. Do you have many loyal clients?
R. "Yes, 20%"
Q. Do you have a client loyalty record?
R. "Some guests have been coming back for 30 years"
Q. What's the best compliment you've ever received?
R. "Coming to you is like visiting family"
Q. Are there any key figures at your hotel?
R. "Paola and Leonardo, the managers"
Q. What are your culinary specialities?
R. "Typical Romagna dishes (lasagne), paella, mixed fried fish"
Q. What does hospitality mean to you?
R. "Hospitality is making our clients feel at ease, and immediately trying to understand their needs"
Ask for a free quote