Hotel Kiss
2-star hotel. Viale Claudio Monteverdi, 8 - Riccione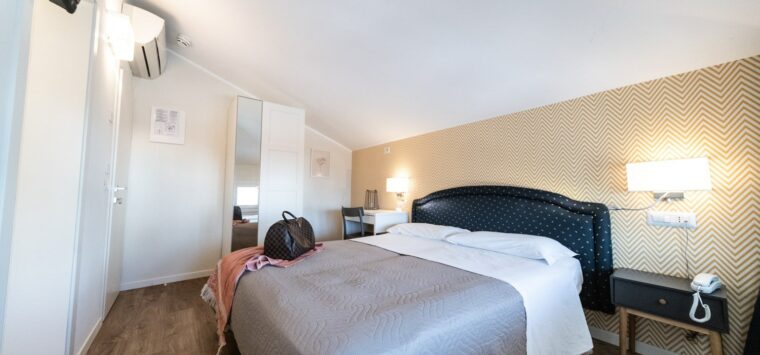 Go to the site

Ask for a quote

Why select this hotel?
Just steps away from the sea and the main streets of Riccione
Renovated and soundproof rooms
Parking
Our hotel is ideal for families: here you will find everything you need for an unforgettable holiday by the sea!
Relax in our bright colourful rooms and discover the pleasure of sleeping just steps away from the beach.
All the rooms of the Hotel Kiss are decorated in one colour and are the right solution for families who want to have a relaxing stay.
General services
Wi-Fi
Parking
Beach included
Restaurant
Pets welcome
Bike hire
Services for families
Children's menus
Meal services
Breakfast included
Half-board
Full-board
All-inclusive formula
Food for coeliacs
Vegetarian/vegan cooking
Languages spoken by the staff
English
Ask for a quote
Simple, fast, free, customised
Ask now

Our chat with Veronica from Hotel Kiss
Q. What do your hotel guests like best?
R. "Our rooms"
Q. Do you organise parties, themed evenings and entertainment?
R. "Yes"
Q. What's the motto of your hotel?
R. "Enjoy a holiday full of colour"
Q. What do children like about your hotel?
R. "The areas where to play and have fun together."
Q. Do you have many loyal clients?
R. "Yes, 50%"
Q. What's the best compliment you've ever received?
R. "You are really nice people"
Q. Are there any key figures at your hotel?
R. "Everyone is important here because all of us do our best to make sure that guests have an unforgettable holiday!"
Q. What are your culinary specialities?
R. "Typical Romagna cuisine with a modern touch as well as a combination of tradition and innovation."
Q. What does hospitality mean to you?
R. "Make sure that all guests feels pampered."
Ask for a free quote