Hotel Magic
3-star hotel. Via G. C. Abba, 3 - Riccione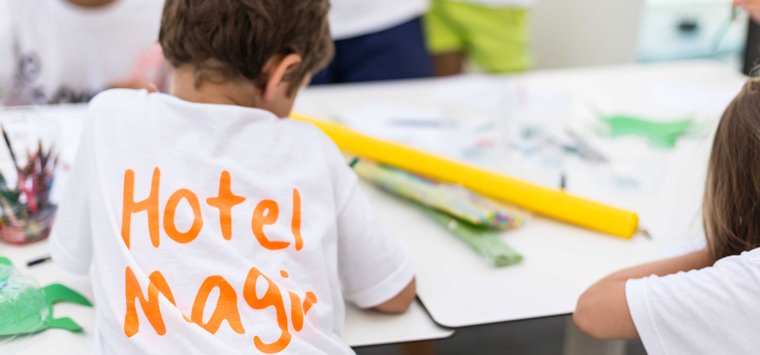 Go to the site

Ask for a quote

Why select this hotel?
Family service
Just 90 metres from Viale Ceccarini
Relaxation area
The Hotel Magic is just two minutes' walk from Viale Ceccarini; it has long been managed by the Migani family and is the ideal choice for families.
We offer various types of room, including themed rooms and family rooms, all with balconies, air-conditioning and free Wi-Fi, and even a chromotherapy shower on the terrace!
The Acquarium is a large relaxation area (250 square metres) with toddlers' pool, adult pool, hydro-massage, hydro-jet, and showers at different temperatures.
Our restaurant is like a little art gallery, where you can admire the work of artist, Tamara de Lempicka and enjoy both Romagna and Italian specialities.
General services
Wi-Fi
Parking
Pool
Beach included
Restaurant
Family rooms
Gym
Bike hire
Services for families
Games for children
Mini-club (4-10 years)
Baby-sitting (payable)
Children's menus
Provision of: cutlery, plates, beakers, bibs and placemats to colour in, highchairs, bottle-warmers
Fully-equipped beach with games for children
Room with: cots with safety-bars, cribs, night-lights
Meal services
Breakfast included
Half-board
Full-board
All-inclusive formula
Vegetarian/vegan cooking
Languages spoken by the staff
English
French
German
Russian
Ask for a quote
Simple, fast, free, customised
Ask now

Our chat with Ugo from Hotel Magic
Q. What do your hotel guests like best?
R. "Our organisation, willingness and kindness."
Q. Do you organise parties, themed evenings and entertainment?
R. "We provide a buffet every week with local produce, and our activity leaders organise a weekly party for the children."
Q. What's the motto of your hotel?
R. "Our guests are our friends"
Q. What do children like about your hotel?
R. "The surprises we give them, our pool and our organised activities."
Q. Can you tell us a nice anecdote?
R. "One parent told me that it was his children who reminded him to book a holiday at the Hotel Magic."
Q. Do you have many loyal clients?
R. "Yes, 60%"
Q. Do you have a client loyalty record?
R. "We've been hoteliers since 1969, covering two generations, and we have many loyal clients"
Q. What's the best compliment you've ever received?
R. "I really look forward to coming here, it feels like home."
Q. Are there any key figures at your hotel?
R. "My family and the staff"
Q. What are your culinary specialities?
R. "Our classic dishes are our wholemeal tagliatelle with meat sauce, our mixed seafood with vegetables, our fabulous fish risotto, and the home-made puddings prepared by my wife."
Q. What does hospitality mean to you?
R. "Making our guests feel at home and at ease with everything."
Ask for a free quote