Riccione Beach Hotel
2-star hotel. V.le Guerrazzi, 18 - Riccione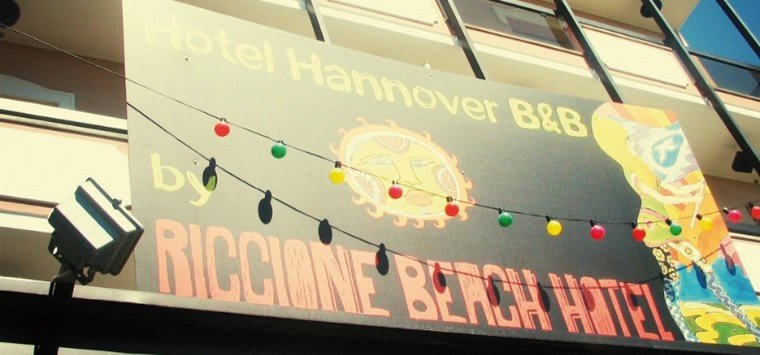 Go to the site

Ask for a quote

Why select this hotel?
Buffet until 3.00 p.m.
Free parking
Position
We're situated in the Marano Beach zone, central to the night-life. We offer a choice between various types of room, all nicely refurbished and comfortable, with private bathroom and shower, TV, and safe.
We offer a generous American-style buffet breakfast, served from 8.30 a.m. to 4.00 p.m., private parking for cars/motorbikes, free Wi-Fi, and an internet point. Our Food & Drink Restaurant is open for dinner with tempting dishes made from fresh, wholesome ingredients. There's also an internal bar and fourth-floor roof garden with view of the sea.
General services
Wi-Fi
Parking
Family rooms
Pets welcome
Bike hire
Services for families
Baby-sitting (payable)
Provision of: cutlery, plates, beakers, bibs and placemats to colour in, highchairs, bottle-warmers
Fully-equipped beach with games for children
Room with: cots with safety-bars, cribs, night-lights
Meal services
Breakfast included
Languages spoken by the staff
English
French
German
Ask for a quote
Simple, fast, free, customised
Ask now

Our chat with Simonetta from Riccione Beach Hotel
Q. What do your hotel guests like best?
R. "The flexible hours"
Q. What do children like about your hotel?
R. "The colours"
Q. Can you tell us a nice anecdote?
R. "Our first year, some of the old clients arrived (the youngest was 80), guests inherited from the previous management. Shortly afterwards, a group of young men arrived for a stag party and the old people were quite upset. So you see there's been a radical change of style here"
Q. Do you have many loyal clients?
R. "Yes, 10%"
Q. Do you have a client loyalty record?
R. "Some people have been coming here for 8 years"
Q. What's the best compliment you've ever received?
R. "Many of our guests thank us and go away happy because they have had an excellent holiday and are satisfied when they leave"
Q. Are there any key figures at your hotel?
R. "The owners"
Q. What does hospitality mean to you?
R. "For us, hospitality is always being positive, giving people a genuine smile, not just a set one, and always giving the best of yourself"
Ask for a free quote